Heritage
RECONSTRUCTION AND PRESERVATION OF SERBIAN MONUMENTAL INHERITANCE FROM LIBERATION WARS IS CONTINUING
Pledge of seriousness and self-respect
In forty European, African, Asian, Australian and North American countries there are 508 registered Serbian veteran monuments and war memorials. Only in Austria, Hungary, Czech Republic, Slovakia, Romania 147. In last five years, owing to systematic care of Sector for veteran and disabled protection of Ministry of work and social policy in Serbian Government, 150 such monuments have been renewed in the country and abroad. And that, of course, is not the end
By: Nenad Despotović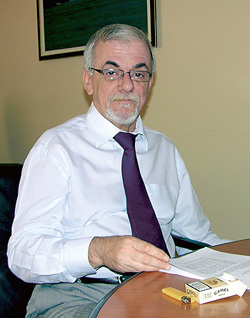 In 2008, according to Serbian Government program, as many as fifty important events is Serbian history are celebrated. Among them, for this occasion we would name two of them. It has been 130 years since Serbian statehood was recognized: on Berlin Congress in 1878, European powers officially recognized Serbia (liberated from Turks) as independent European country. In addition, it has been ninety years since signing armistice that practically ended First World War, from which Serbia, with horrible sacrifice, came out as a victor.
Sector for veteran and disabled protection in Ministry of work and social policy in Serbian Government, headed by Deputy Minister Mirko Cavaljuga PhD nourish Serbian libearation traditions. Precisely for that reason, also this year renewal of monuments continued, books were printed, documentaries and feature movies were filmed which foster those traditions and make it living part of national being.

TWO OPEN COMPETITIONS

– Important dates from freedom fighting past of Serbian folk that are scheduled to be celebrated in 2009 are going to be assigned after open competition that is already published. Tender has been issued to Republic and to regional institutes for monument protection to prepare suggestions, enforced with corresponding projects and documentation, on basis of which war memorials in country and abroad could be chosen which, during 2009, should be repaired and conserved.
Other institutions, organizations, political associations and private persons could send submissions also. Competition is open from 1 to 30 September –says Miro Cavaljuga for National Review.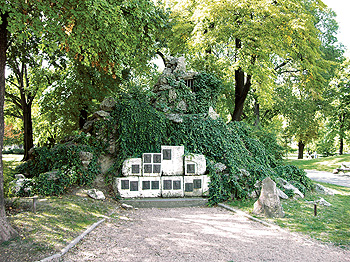 In November, there shall be another open competition. Individuals, science institutes, magazine editorial offices shall be summoned to compete for financial aid in printing of scientific and publishing books and filming documentaries and feature movies in which, also, freedom traditions of Serbian people should be presented. Annually, Sector for veteran and disabled protection in Ministry of work and social policy secure funds for realization of about ten such works.
It sounds stunning and provokes resignation, but it is true that first systematic care of Serbia for its veteran's heritage and collaborating monument legacy starts only in 2003, with definite demise of Yugoslavia and with forming of state union of Serbia and Montenegro. Sector for veteran and disabled protection in Ministry of work and social policy that overtook that care, established close and planned cooperation with all institutions that have jurisdiction over monuments of culture in the country and abroad. Programs were realistic, concrete and workable.
Reasons for manifestations, remembering and marking are many, in fact could be endless. Respective state relation is a question of seriousness and self-respect. Only in August, this year, for instance, we marked (27 August) 203rd anniversary of Ruling Council of Karadjordje`s Serbia, which was in session for the first time in Veliki Borik, near Barajevo. Before that, on 18 August, in a convenient way, 203rd anniversary of Battle for Ivakovac was marked. Day before, on 17 August, anniversary of death of King Peter Karadjordjevic was marked. King Peter the First Foundation in Topola organized on 15 August, exhibition "King Peter the Liberator. Soldier's and Ruler's Approach: King Peter in WWI". Three days before, 13 August, 79th anniversary of death of Archibald Rice was marked. (…)
Stormy Serbian history and huge heritage are treasure, but also obligation for descendants.
WITHOUT IDEOLOGICAL DISCRIMINATION
– During reconstruction of memorial complexes and war memorials we avoid any ideological attitude – says Cavaljuga. –We do not want to make same mistakes made for many decades after 1945, when attention was paid only to monuments from WWII. We have equal policy to all monuments, from all periods.
In forty European, African, Asian, Australian and North American countries- as historian Dejan Ristic, consultant in Sector for veteran and disabled protection in Ministry of work and social policy says for National Review – list was made with 508 Serbian monuments and war memorials. Only in Austria, Hungary, Czech Republic, Slovakia, Romania 147. In last five years, owing to systematic care of Sector for veteran and disabled protection of Ministry of work and social policy in Serbian Government, 150 such monuments have been renewed in the country and abroad.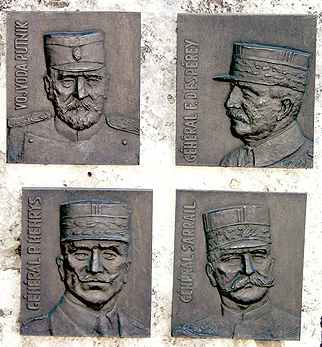 Procedure for activities in next year, 2009, has been established. Back in 2005, significant dates were adopted and they are marked every year. Some of them, whenever it is known and possible, are marked in the very hour when they happened, as Victory Day in WWII or Armistice Day in WWI.
On a preposition of Sector for veteran and disabled protection, Serbian Government signed, or it shall sign bilateral agreements on protection of culture monuments, preservation of Serbian war memorials in those countries, and proportionally, foreign war memorials in Serbia. Maybe the best example and confirmation of such cooperation is Slovakia. Experts from Regional Institute for monument protection in Kragujevac performed preservation-protection work in that town on Czech-Slovakian cemetery from 1918. In that time, 71st Austro-Hungarian regiment was situated there. It consisted of Slovakians who rebelled against their command and state whose uniforms they wore. Many soldiers were shot at the spot as rebels and they were buried there, in Kragujevac.
From the other side, Serbian war cemetery was renewed in Veliki Medjer and Serbian Warrior memorial crypt in Trencin, in Slovakia.
CONSISTENT PROCEDURE, FULL CONTROL
Last word on which monument shall be renewed, which book to print and which jubilees to be marked next year, 2009, is not given by Sector for veteran and disabled protection in Ministry of work and social policy, but rather by Council for cultivation of traditions of liberating wars. That body has five members. It consists of Ministers of Culture, Education, Religion, Defense and fifth member is representative of Ministry for work and social policy. In last mandate, head of Council was Minister for Culture, and chances are that in new mandate it shall be Minister of Defense.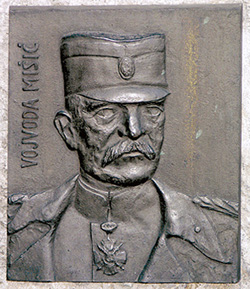 When, on last day of September, competition for tending war memorials and other neglected places is finished, Republic Institute for protecting monuments of culture shall send all propositions that satisfy all envisaged terms to Sector for veteran and disabled protection in Ministry of work and social policy. In November, prepositions for financing book printing and movie making. All of those propositions shall be presented to Council for cultivation of traditions of liberating wars separately and advocated by representative of Sector (now that person is Miro Cavaljuga PhD). Members of Council decide. When deciding on next years projects, authorities emphasize, attention shall be paid that all parts of Serbia are included but also different periods of Serbian history.
Republic Institute for monument protection, together with regional Institutes, performs reconstructing task. Sector for veteran and disabled protection in Ministry of work and social policy employed special expert to oversee quality of performed work, schedules and spending budget.

***

Medal for Djordje Mihajlovic
Documentary Guardian of Secret Tombs by author Misa Vujovic, in "Princip Press" production and National Review – about Djordje Mihajlovic, man who guards Serbian soldier's cemetery on Zejtinlik in Thessalonica – was shot thank to backing of Sector for veteran and disabled protection in Ministry of work and social policy. Work on that movie, now in final editing cut, was encouragement that leading character in the movie, Djordje Mihajlovic, should be nominated for high decoration in Republic of Serbia. It is planned that he should awarded precisely on 90 anniversary of the end of WWI. On that occasion, Djordje Mihajlovic shall be in Belgrade as guest of National Review, and it is expected that highest state officials will also receive him.

***

Books
Sector for veteran and disabled protection again this year has secured money for printing many significant books that reaffirm Serbian liberation and army tradition. With that money two issues of Military History Messenger devoted to end of WWI were printed. There are also books Memorial visits to Serbian Army Cemeteries in Foreign Lands, by Vojislav Djurdjevac, Scripts on Serbs by Alphonse De Lamartain, Typhoid fever in Serbia 1914–1915 by Isidor Djukovic...