An Eye
HIDDEN HISTORY OF THE MOST FAMOUS PAINTING IN THE WORLD: MONA LISA IS LEONARDO
Return to the first drop
Painter from Belgrade, Predrag Lukovic discovered and proved in 1982 that on the most famous painting on the planet, brilliantly disguised, is in fact painter himself. Imposing Leonardo style, he imposingly showed it on his painting "Portrait of a secret". Painting circulated around the world. Much later, his discovery, without stating the source, was used and commercialized by many others, from the author of "Da Vinci Code" by Dan Brown, to spouses of certain contemporary Serbian writers
By: Dejan Đorić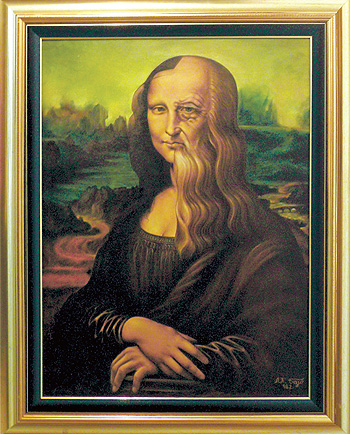 Mona Lisa, painting by Leonardo Da Vinci, became an obsession and some kind of icon of the modern world where millions of people come to pilgrimage. It was painted somewhere between 1503 and 1506 on a thin wooden medium. In 1517 painter brought it to France. For many centuries, it was anonymous, and in 1804, it entered the Louvre. After French revolution, treasure of the museum became reachable to the public, but Napoleon took this painting and held it in his bedroom. By the end of the XIX century, it was stolen from the Louvre. That provoked a scandal that shook high political circles and Parliament, but it also made this work famous. Few years ago, it was discovered in Florence and returned. Today it is placed in separate exhibition hall, which was redecorated for a cost of five million euros. In that room, there is new lighting, air control system and alcove for the painting with unbreakable glass to protect it from climate changes and camera flashes. Louvre head curator recently dismissed requests to clean the painting. Annual six million of visitors in Louvre make indescribable scuffle, taking pictures with their cameras, so that the painting is hardly visible.         
Identity of the person on the painting was never reliably confirmed. It is believed that Leonardo painted Lisa Gherardini, spouse of Florentine merchant Francesco Del Giocondo. Allegedly, before she was portrayed she lost the child, so grand master brought musicians and entertainers to cheer her up. That the origin, they say, of her mysterious smile. Some biographers claim that Lorenzo De Medici ordered the portrait. Leonardo worked on that painting for the longest time, the only one he kept for all of his life, but he considered it unfinished. When he saw the portrait of his wife, Florentine merchant refused to pay for it and to take it. One Belgrade artist, it seems, discovered true reason for refusal.       
MONA LISA DA VINCI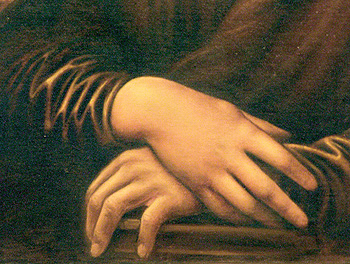 Predrag Bajo Lukovic (1958) graduated space planning on MAT in Belgrade, but he devoted himself to visual arts and poetry. Famous graphic designer Dragan Lubarda consigned him into drawing, so Lukovic became master of drawings, illustrator of Politika daily and author of hundred of portraits of  authors and critics.
"For years I have copied Mona Lisa, painter said. "When I first copied Da Vinci's self-portrait, it seemed to me that I have painted that before. Between him and Mona Lisa, there were stunning similarities. I have decided to try to show them on one portrait and everything fitted perfectly. After research there was no doubt in my mind that Leonardo hided his portrait behind Mona Lisa."
Lukovic developed this hypothesis with the painting Portrait of one Secret, from 1982.
Twenty-five years passed from the first time it was exhibited. In the meantime, it has won cult status and as some kind of variety of Mona Lisa, its underground version, probably it had hidden influence on a sequence of cultural events in the end of the last century and in the beginning of this one. Vladeta Jerotic PhD asked: "Is the presumption, even a statement, that in the earliest time frame in the whole world (1982), by our man, painter Predrag Lukovic Baja, and couple years later (1986) also by American art historians, that famous Leonardo's portrait, is in fact self portrait – justified and possible?" Even Leonardo affirmatively answered on this question. In Tractate on Painting, he writes that he was often impressed that certain masters in all of his figures were painting themselves.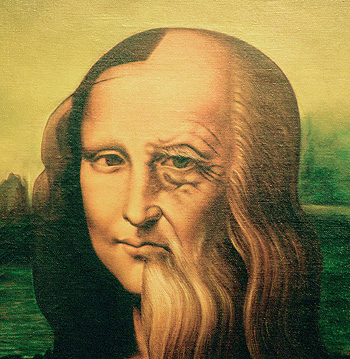 Soon Lukovic's work became interesting for some of the best Serbian and Croatian intellectuals and writers, from Vladeta Jerotic PhD, Jovan N. StrikovicPhD, Bojan Jankovic PhD to Zoran Gluscevic PhD, Dragan Jovanovic Danilov and Miro Glavurtic. Professor Srboljub Zivanovic PhD, from Institute for Anatomy in Medical Faculty in Novi Sad was also interested in Lukovic's painting. He performed anthropological analysis and confirmed that Lukovic's painting is credible in scientific sense. Zivanovic observed "tendency of great similarity of morphological aspects in both portraits." 
Baja Lukovic's idea that Mona Lisa is a self-portrait was taken by American, Lillian Schwartz. As an expert on computer analysis and a drawer, she confirmed that model for Leonardo Da Vinci's masterpiece was artist himself. She has done what our artist did, but she is consultant in "AT&T Bell" Laboratories and she had backing of Times daily. In that newspaper from 29 December, 1986, also in January 1987 edition of  magazine Art and Antique, presented results of hers, better to say Lukovic's analysis, without even mentioning him. She used most sophisticated software and computer models to get to the conclusion our painter had using his sharp eye. In words of Nikola Kusovac, Lukovic discovered secret of an old master using his methods. His painting was often exhibited in our and foreign museums and galleries, and author was offered huge sums. This oil on canvas painting could be soon in catalogue of auction house "Sotheby's".      

TRIUMPH OF MONEY AND FORGERIES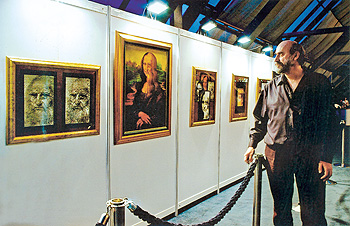 In the meantime in 2003 appeared novel "Da Vinci Code" by Dan Brown. Author has won law case against two authors of equally known best-seller Holy Blood, Holy Grail, from which he took complete story. For the first time British court passed the verdict in favor of forgery and revealed western fairy tales on protection of intellectual property. Even the book that Dan Brown transcribed is false literature, based on fabrication of two reporters "researchers" of ezotheric science. Their main character, allegedly descendant of Jesus Christ, frightened with the proportion of the story, at the end of his life informed the public that it was newspapers falsehood.      
Leonardo is best-scrutinized author in art history and nowhere in documents; there is no mention of certain Sion Priory where allegedly he and his friend, the painter Botticelli were grand masters. It is written that painter had thousands of orders, but it is not the case with any painter in the history. The only thing that is correct is Dan Brown's remark on Leonardo's ambivalence and androgynous, embodiment and harmony of male-female principle –taken from Lillian Schwartz, that is, from Lukovic. 
In 25th chapter of Dan Brown's novel, it reads that left side of Mona Lisa is masculine. Renaissance master was extremely pretty in his youth, but he was also vain, inclined to enigmas and mysteries, as his other paintings show.
Recently Serbian author Jasmina Mihajlovic also, in her novel, Parisian Kiss used Lukovic's painting Portrait of one Secret. Her experience of Mona Lisa is identical to Lukovic's.
Mona Lisa lived and survived numerous attempts of forgers, destructors, various mockeries and ugliness in popular culture, mania of its commercial and material editions. Secret of success of that painting is in use of Leonardo's criteria in its creation. Belgrade artist has seen phenomenon and fix it in the manner of old masters. That is why his work is not mocking, it is not part of demonic misuse, and commercialization of capital Leonardo's painting. Western culture in XX and XXI century sinned against Mona Lisa with hundreds of "manufactured goods". Predrag Bajo Lukovic tried to get it back to sphere of paintings and secret, knowing that during renaissance they were the same.

***

"Fore"
"On this class one may say that on Baja's painting Portrait of one Secret two profiles of the same face have met – Leonardo's and Mona Lisa's  – and that is Noon, that is Terazije, that is centuries quest for wanted "Fore". (Dragan Lubarda for the occasion of  exhibiting Portrait of one Secret in Italian Institute for Culture in Belgrade, on 500 anniversary of Mona Lisa)

***

Archmediala
"We are in the territory of "medialistic research", but even those medialistic institutions yet in occult and hidden spaces of secret work, on very edge on history existence, and which, from the beginning was called ORC (Office for Registration and Classification, name that was in September of 1956 given by Leonid Seika, "the classificator", whose code name was "Transit Clasificando". He, Bajo Lukovic is proving to us, with his work and existence that Mediala is permanent, with is principles and its spirit. With new times, new people and century that are on the doorstep, they actively and mystically participate in announcement of Arch-mediala. Painting Leonardo – Mona Lisa is a symbol of one spirit and one time; therefore it finds its synchronicity and parallelism in its various displays and researches. Most of all, it is the symbol of Archmediala." (Miro Glavurtic) 

***

Conjunction
"Predrag Bajo Lukovic on famous Leonardo's painting has found alchemy wedding of two faces looking for each other for centuries, suddenly finding each other. Faces of artist and model pervade and overlap following logic of unity of opposites: painter-model, old man-young woman. Bajo Lukovic painted an integral picture on which he has seen proportions of a woman as a divine aspect. Bajo Lukovic on that painting remembers from inside, with himself, creating certain visual essay on beauty, on blossoming of a being, on unity of opposites, magic of extremes." (Dragan Jovanovic Danilov)

***

Through the veil
"Painting that was seen by generations, seduced with its smile and look, inspired also our artist Predrag Baja Lukovic who, in the name of all the others, peeked in its secret, leaned over its depths and in instant discovered its impenetrable veil. In 1982, with his eyes, with her essence she looked upon all of us and through us. With his painting Lukovic showed correctness of his presentiment that Leonardo "borrowed" his image to Mona Lisa, who became symbol of his life's secret… Great riddle got its answer, but the secret stayed alive, refreshed and nourished with shadows which darkened real painters face". (Bojan Jovanovic PhD, anthropologist)