Health
PROFESSOR ZORAN KRIVOKAPIĆ (Ph. D.), SURGEON RESPECTED AROUND THE PLANET AND UNIQUE BRAND OF SERBIAN MEDICINE
Renowned in the West, Respected in the East
The case of the Kosovo sufferer Djordje Martinović led the young doctor to London. He learned from the best, and then became one of them. He returned to Serbia and saved many lives, promoting his profession with seven mile steps. In ten years, he has performed more than 1.500 operations of the colon. He introduced and applied 43 new diagnostic and surgical techniques in Serbia, including those for surgical treatment of the colon carcinoma
By: Jagoda Plavšić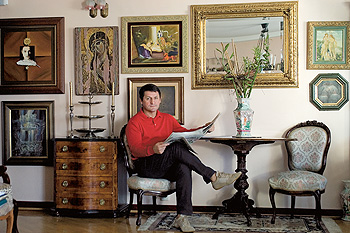 Only this year, he flew around almost the whole planet. Moscow, Japan, America, England, Israel, Italy, Hungary, Republika Srpska… He has been or will be a guest of sixteen countries in the following month as a lecturer, honorary professor, surgeon whose operations are transmitted live before hundreds of doctors from the whole world. He is our only expert who is the regular member of the Royal College of Surgeons in England. He was elected as the honorary member of associations of surgeons and coloproctologists in seven countries.
This is more than enough to know that the story is about the professor of surgery and coloproctologist Dr Zoran Krivokapić, an expert from Serbia who climbed to the very top of the world and is a true ambassador of his country. His colleagues say that "he is popular in the West, respected in the East". As a surgeon who did most to promote colon surgery in Eastern and Central Europe, he was awarded with the first prize of the Association of Coloproctologists of Great Britain last July. He is the founder and president of the Serbian Association of Coloproctologists, Surgical Section of the Serbian Medical Society, many international associations.
If we would list all the awards, memberships (only not a member of any political party), expert works, congresses where professor Krivokapić is one of the main participants, the fact that he introduced more than 40 new diagnostic and treatment procedures, that he is famous among the people from public and political life, as well as numerous patients from the whole Serbia – one could hardly believe we are speaking of only one man. All these were reasons for the National Review to present this extraordinary expert and speak to him.

TOWARDS THE TOP OF THE WORLD
We met him in a pause between two surgeries (colon carcinoma in both cases), between two trips (he was preparing for a trip to America, to the World Congress of Coloproctology University Professors, and then immediately to the Board of Directors of the European Association of Coloproctology, then to Romania, which bestowed the title of honorary doctor of sciences to him).
The walls in the not so big office at the Third Department of the Institute of Digestive Diseases in the Clinical Center of Serbia (former First Surgical Clinic), which he manages, almost have no space left for awards, prizes, pictures with the most eminent international experts with whom he cooperates.
Besides all his professional activities, our guest finds time for one more love of his. He says he cannot live without sports. He had been playing basketball for 25 years, until two years ago. He was also the doctor of the national team, which he is especially proud of. Now he is mostly on tennis courts.
He tells us he was a good student. Straight A student. He could choose what to study, what to do in life. His father was an electric engineer, his uncles all technical experts, so it was logical that he follows the same direction. However, he chose medicine by chance. And there are even more coincidences, or signs and paths of fate, drawn in Kosovska Mitrovica where he was born and where he keeps returning today to operate (Albanians too). He graduated from the gymnasium there, and then his paths led him to the Belgrade Faculty of Medicine and the afar famous First Surgical Clinic, and then to the very top of the world. While he was in the army, there was an open competition at the First Surgical Clinic. His wife submitted his documents. And he was accepted. If this happened only a few months later, he would be an internist doctor at the Military Medical Academy.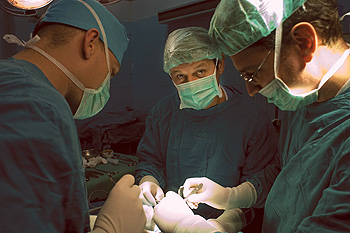 – And so, I became a surgeon by coincidence – says Dr Krivokapić with a smile.
And again, a coincidence or something else, the case of the Kosovo sufferer Djordje Martinović got involved into his professional path which he started full of ambitions still living in him today. Professor Krivokapić cannot forget the unfortunate Serb whom the Shqips seriously injured the anal cavity with the bottom of a bear bottle. He was with him in London, in the St. Mark's Hospital, best in the world for colon diseases, with the famous professor Peter Holly. There he met professor Bill Hild and many others from whom he absorbed knowledge and conquered new surgical methods of therapy. Dr Krivokapić also never forgot his Serbian teachers, especially professors Stevović and Dugalić.

A WISH WAITING TO BE GRANTED

The professional relations he established during his specialization in London stayed intact to the very day. However, although all doors were open to him there, he did not stay in London. He remained faithful to his homeland, he came back. He saved many lives here, unselfishly transferred his knowledge to his colleagues, created a team equal to the best international teams according to its results.
Answering the question of the National Review what he considers his biggest professional success, and what he is most proud of, professor Zoran Krivokapić says:
– I consider introducing the new method in the surgical treatment of the colon carcinoma as my biggest professional success. It was first applied by professor Hild in 1982. I began doing it here in the 1990s, and significantly promoted this type of treatment. It is sufficient to say that this method not only improves the patients' quality of life, but also significantly prolongs it. The success percentage before used to be 35 percent, now it is 70. That is what I am especially proud of, as well as the brilliant team of surgeons here. Besides, there is the method of sphincter reconstruction, which I also learned in London. Patients used to go abroad for it, now they can all do it here. I am also proud of the founding of the Association of Coloproctologists, which is mostly my success. The strength and importance of it is shown by the fact that numerous most eminent international lecturers participate in our gatherings.
When, during the interview for the National Review, we asked professor Krivokapić what else a man who is already at the top of the world wants to achieve here, in his country, in his city, he immediately replied: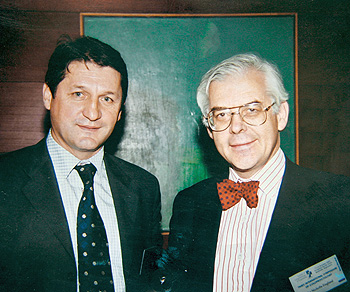 – My unrealized wish – unrealized because of the political situation, miscomprehension and other things – is to open a center of coloproctology in Belgrade, which would be a republic center, but also certainly a regional, actually European center. We have possibilities for it, we have people, we have the support of the European Association. I believe this will be achieved. It would be a center where international experts would come to perform surgeries, to resolve professional dilemmas, to promote treatment of patients, to improve education, since, without constant learning, there is no true advancement in the profession.
The guest of the National Review succeeded in conquering the world and doing alone what many cannot do. He was able to dedicate himself to his profession and leave a trace in such a significant field of Serbian medicine due to the extraordinary support of his family.
– My son is a medical student, it was his choice, and my wife Dragana (love from the high school days) is the pillar of the family. Mutual understanding and support have always been present. I am very lucky to have that – tells us professor Krivokapić.
Naturally, not everything in Dr Krivokapić's professional path went smoothly. It is not easy to reach lower peaks, let alone the top of the world. He illustrates this with well-minded words of one of his friends: "You are high above water, Zoran, even though you are not a water polo player."
Besides all this, without any doubts, professor Krivokapić led Serbian medicine to the top of the world.

***

Against Colon Carcinoma
The necessity of opening a top-level center of coloproctology in Belgrade is sufficiently illustrated by the fact that each year one million people in the world are diagnosed with colon carcinoma, and half a million die from it. In Serbia, in each 100.000 people, there are almost 4.000 newly diagnosed patients with this notorious disease. Unfortunately, it is not a disease of the older generation, but also the young. Colon carcinoma is one of the most notorious and most frequent tumors and it equally affects both females and males.

***

Program for Early Diagnosis
At the beginning of next year, a screening program – early diagnosis of colon carcinoma – will also begin in our hospitals. The contribution of Professor Krivokapić to such prophylaxis is enormous. He is one of the most deserving ones for the fact that people are finally speaking openly about this colon disease and that the profession began fighting it the right way.