Traveling
RAILROAD AS TOURIST BRAND OF SERBIA
With train to the heights
On picturesque Mokra gora and "Sargan eight" in train "Nostalgia", only during last year drove with admiration over 70,000 passengers from all over the world. Revitalizing that romantic vintage railroad and with building of Kusturica's Drvengrad on Mecavnik stopped migration and withhold so these beautiful parts won't be deserted. This summer, on Assumption, new railroad was open, and on special trip, with high-ranking members of diplomatic core and numerous VIP guest, was "National Review"
By: Мišo Vujović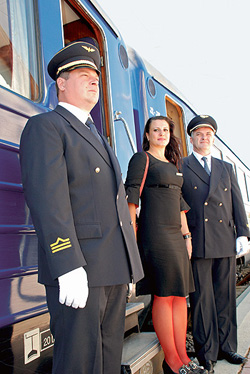 Down the whisker of long grass that was falling down like monk's beard over grey stone pebbles, flocked as pure as driven snow, clear spray of water. Legend says that in these vivid hills once wondered group of travelers and stayed over night, and because firewood was soaked with water and they couldn't start the fire, called this place Mokra gora (wet mount). Landscape of green hills, sunny pastures, clear creeks and untouched ravines, placed on the slopes of Tara, Šargan and Zlatibor, today present most preserved nature's park in Serbia. Three rivers run through Mokra gora: Beli Rzav, Crni Rzav and Kamesina. There are healing waters, as spring Bele vode (White Waters) which is rated to fifth place in the world by its concentration of alkalinity. Two hundred meters upstream from Bele vode there is healing spring "Česma" (drink-fountain), and two kilometers further in riverbed of Kamesina spring up "Dulova voda". In Kotroman in drilled wellspring of salt water, "Radovanove vode" was found and in Kremna water full of sulphur that pours from the deep "Glisova voda".
Over these picturesque lawns from dawn of time passed caravans. Romans built roads, few remaining necropolis testify about that. In Middle Ages, road over these hills connected Constantinople and Dubrovnik. During the time of Serbian medieval state caravans traveled from Raska to Zeta and Primorje. In the beginning of stormy XX century mighty Austrian monarchy started, and Kingdom of Serbs, Croats and Slovenians finished iron road on which "steel monster will puff from sea to the Danube". From Belgrade to Dubrovnik, with sooty train, trip lasted for two and a half days. Up the slopes of Sargan, two locomotives pulled transport carts seldom.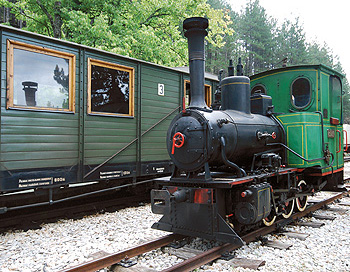 Through slits and ravines forested with thick conifers, bathed in August sun, old diesel locomotive was pushing forward with rhythmic clacking of old wooden coaches.
Return of "Nostalgia" on Sargan rail run fulfilled another longsighted prophecy of Mitar Tarabić:
"Lots of years will pass and than people will again remember the iron road, so they will again rebuild this road. Only, to Visegrad will not travel passengers because of their need or business, but people will do it for fun, for recreation and pleasure…"

EUROPEAN TOURIST ATTRACTION

About thirty diplomats accredited in Belgrade, among them ambassadors of two big countries, Russia and India did not hide their delight riding recently with "Nostalgia", which they reached with short changing from Zlatibor with Broz's "Blue train".
With renewal of museum-tourist complex "Sargan Eight" on which from Mokra gora to station Sargan Vitasi operate train "Nostalgia" , Public Company "Serbian Railway" did not only enriched tourist offer of our motherland, but also "Sargan Eight" became one of the greatest railroad tourist attractions in Europe. During last year with "Nostalgia" roamed over 70,000 tourists from all over the world, the fact that made Serbian Railway tourist professionals to expand roaming of train "Nostalgia" during New Year and Christmas holidays on slopes of Šargan.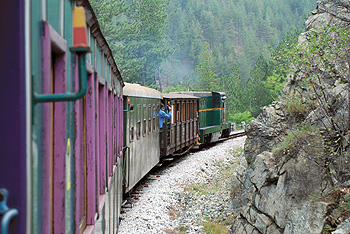 Railway through Sargan represented, for master-builders, great enterprise, and complicated construction challenge bridging Mokra gora with Sargan saddle, with altitude difference of 300 meters, was solved with rail line in the shape of the number eight in length of 13.5 kilometers, which presents unique route in Europe.
In first years of XX century Austria, intending to move further border of its influence from Drina River, constructed strategic railroad of narrow gauge from Sarajevo to Varadiste, which is situated in reach of Mokra Gora. Last part of the railroad in the valley of Rzav River, from Visegrad to Varadiste, was opened on 1 July 1906. A year later, Kingdom of Serbia starts constructing the railroad Stalac-Uzice-Mokra Gora. Despite the fact that "customs war" was raging, yellow-black monarchy gave approval to connect intersection from Mokra Gora to Varadiste. Just before First Balkan War in 1912 railroad track from Stalac to Uzice was finished, in length of 168 kilometers. On 16 July 1912, railroad engineer Slobodan Savic greeted with cannon salves drove in with decorated locomotive in newly built rail station in Uzice, where around 2,000 people greeted him. Balkan wars, followed by WWI, postponed construction from Uzice to Mokra Gora.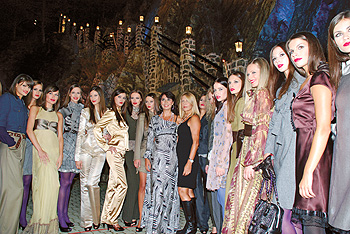 After withdrawal of Serbian Army through Albania, Austrian occupational forces, believing that Serbia will became part of their monarchy for a longer period, started building railroad from Varadiste to Uzice. Austrian engineers and Russian war prisoners came across first obstacles at the base of Sargan. Wild nature, numerous slits and ravines, stood in front of builders. As all great constructions, Sargan 8 could not be built without tragedies. While penetrating longest tunnel beneath hill Budim, landslip covered 200 builders, and after he learned that two groups of builders would not meet in the middle of the tunnel, main engineer took his own life.
In 1916 on ninth kilometer from Varadište to Mokra gora, construction was halted, only to be continued on 1 March 1921, three years after the end of WWI. With great temptations, construction was finished on 25 January 1925, when this new railway saw first steam engine.

MOKRA GORA SHALL NOT BE DESOLATED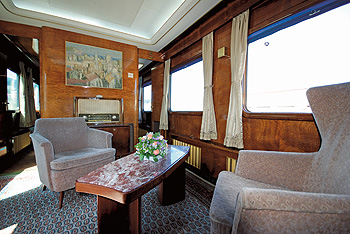 Sooty little train connected Panonian and Adriatic Sea for almost half a century. Then, due to development of new technologies, it was retired. Favorite "sooty", "grime", "raven", as they used to call it, whistling greeting went numb. From narrow gorges and tunnels, from green fields and pastures, "cho-cho train" moved to memories, in stories and anecdotes. Let us remember that one about tired peasant who, exhausted by walking, with a ticket in his pocket, laid down his tired bones to bench in Visegrad rail station, lucky because he did not loose the train. The moment he laid his head on his sack with flour sleep overwhelmed him. And, on his face, carved with hard life and burned by the sun, smile appeared.
"Come on, your train is leaving! Railway man tried to wake him up.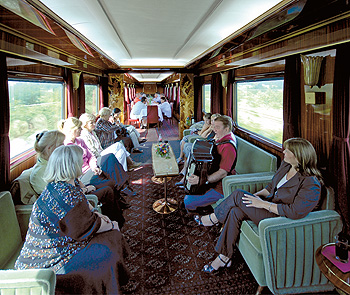 "You just go I have the ticket on me.", turning to the other side, said untried passenger.
When "cho-cho train" went to earned retirement, many places, over night, became dead ends. Shops were closing down, crafts, youth went in search for the better life, filling big cities, while villages slowly withered and becoming old, glades were conquered by weeds, songs of girls shepherds went silent, the call of young men for the merry making. Landscapes full of life suddenly became lifeless, as on a postcard.
Similar destiny happened also to Mokra gora, in war thorn nineties, when life started slowly to die down. Even these parts, as the bigger part of rural Serbia, under the burden of destitution and universal desolation, in less then ten years were left without third of population. This trend was stopped with rebirth of "sooty" train and with construction of Wooden Town, on the mount Mecavnik above Mokra Gora. There, on the highland over the village, where winds and drifts used to wage wars, movie director Emir Kusturica saving from decay left wood cabins, built a hotel – ethno village, or town with soul.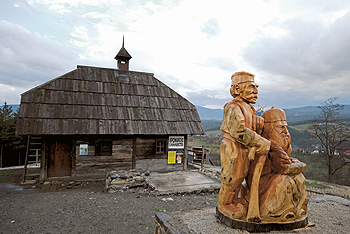 Resurrected "cho-cho train" and Mecavnik gave new life to humid mount overwhelmed with clear icicles, sunny hills, thick larch forests – "whisperers" of Milos Tarabic, who, when he was asked by Zaharije Zaharic what on earth is he doing whole day in the forest, said:
"My best man Zaharija, you see, I watch there in the forest…I watch, I see everything and I hear…That way I learn what will became with all of us, with this folks and rest of the world…How I see it and hear it, I can not explain to you with this language…I just can not find the word."
On Assumption 2008, on 28 August, new railway line of "Sargan 8" was opened, from Mokra Gora to Dobrun (Rupublic Srpska), and it is planned, by the end of next year, for "sooty" train to ride to Višegrad, so the prophecy of Mitar Tarabić shall be fully fulfilled.

***

Blue train
In tourist offer of "Serbian Railroads" there is possibility of renting "Blue train" that, until the death of J. B. Tito, was in service of President of SFRY and his guests. Construction of "Blue train" lasted from 1956 until 1959 in train coach factory "Gosa" in Smederevska Palanka and in "Boris Kidric" train coach factory, in Maribor. Luxury decorated interior is dominated with wood: mahogany, peer, walnut, with incurving in saloons and hallways.
From photographs on the walls of the saloon smile and greet its most famous passengers: Indian President Jawaharlal Nehru, Indonesia sovereign Ahmed Sukarno, Tzar of Ethiopia Haile Sellasie (they used to sing to him: Arrived Sellasie, Tzar of Africa and Asia"). On "Blue train" travelled also Leonid Breznjev, Queen Elisabeth II, Prince Phillipe and Princess Anna…
Josip Broz Tito was traveling with this luxury giant with ten coaches and eight coaches of the first train, to France, Poland, Bulgaria, Austria, Hungary, Romania, Greece and USSR.
Josip Broz Tito's palace on the rails is from 2005 in tourist offer of "Serbian Railroads". Maximum capacity is 110 passengers, and at a disposal are presidential saloon, representative dinning room, dinning coach, De Gaulle's saloon and three exclusive saloon coaches.

***

Stop, Drina, you cool water
In Jatare railway station –on belvedere over Mokra Gora not a single passenger ever stepped into train. On the train junction today raised luxury restaurant with stone balconies and waterfall. For the occasion of opening new railway line Mokra gora – Dobrun, in Jatare there was cultural event that was opened with native song "Stop, Drina, You Cool Water", without instruments, sung by Uzice native Zorica Mirosavić, also virtuoso instrumentalist on flute and once member of singing band "Djerdan" (necklace), with a voice, that fascinated spectators.
Time of building Sargan railroad, from the beginning of XX century, with play "Railway to Visegrad", came to life with actors Milorad Mandić Manda (author), Srdjan Ivanović, Anja Mandić, Alexandra Janković, Vlasta Velisavljević, Dejan Lutkić and Nikola Džamić.
After performance of Extra Nena and Dragana Del Monaco, fashion designer Verica Rakočević presented new collection "Urban chic".