In Remembrance
DIVNA VEKOVIĆ (1886–1945), IMPORTANT NAME IN SERBIAN SCIENCE AND CULTURE, KILLED WITH A MALLET IN ZIDANI MOST
Our Unpaid Debts
She, from the village of Lužac, Vasojevići clan, graduated medical school at the Sorbonne in 1909 and was the first female doctor in Montenegro. As a volunteer, she joined the Serbian army during the Great War and breakthrough of the Salonica Front. She received the highest Serbian and French medals, got her PhD degree in literature in Belgrade, was the first to translate "Mountain Wreath" into French, published important works in the field of philology, linguistics, ethnography… Without a trial and explanation, in the night between May 17 and 18, 1945, she was bestially killed by communists
By: Milica Kralj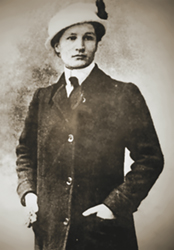 Refugee flows, which marched the path of death in 1944 and 1945, did not only consist of a defeated and betrayed army, which defended the patriotic vow "For the honorable cross and golden freedom" till the last breath. There were also thousands of civilians, children, intellectuals, priests from the Metropolitanate of Montenegro and the Littoral, women (widows, mothers, sisters… girls…) and all those people who rushed to hide and save themselves in an unknown foreign world, in an area without the heavy fate of fratricide and atheism, from the so-called winners of the war. The motto of those winners most precisely signified the tragicness of the upcoming times: "Boot – leg – no God!"
Dr. Divna Vuković, the first female medical doctor in Montenegro, was in the line of people who set off from Montenegro, through Bosnia, and arrived to Slovenian Pohorje. Her brother Panto Veković, one of the chetnik commanders, was also in the line, as well as many members of her Vasojevići clan.
In the green May night in 1945, while unknown Slovenian mountains spread the peaceful scent of spring and memory of homeland, of their birth house, memories of Paris and her previous life, who or what were her last thoughts dedicated to, who did her last smile indicate a possibility of salvation to?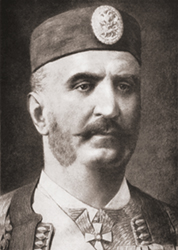 Was the arriving stomping of death already noticed in her last steps in the agonizing line of her clan members and co-sufferers?
Who did that woman, educated at the Sorbonne, the woman who was the first to translate Mountain Wreath into French in 1917, pose a threat to, to be hit with a mallet in the head?
Is it just because her closest people were in the same line, brothers, godfathers, cousins, co-sufferers and co-travelers by family, blood, cheek, those who attempted to defend the basis of collective endurance (honor, honor above everything), so they hit her with a mallet in the head?
Did the hand of the assassin at least tremble in the moment it lowered the heavy mallet, was it not afraid of the sin it was committing?
Could not anyone separate women and children from the line of those condemned to death?
And among them Divna Vuković, the doctor who saved so many lives at her job in the hospital, as well as in World War I?
Who was that unselfish woman, loyal to the highest ethical values until her very death?
WIDE FIELD OF ACTIVITIES
Divna Veković was born in 1886 in the village of Lužac near Berane. She completed elementary school in the Đurđevi Stupovi Monastery. She studied lower gymnasium in Skopje and then continued her education in Cetinje, in the Girls' Institute. She was an excellent student in Cetinje, so Prince Nikola sent her to study in Paris, with the scholarship of the Principality of Montenegro.
Before enrolling in Medical School at the Sorbonne, Divna completed one year of midwifery training in Amiens and two years of dentist school in Paris. She completed her studies of medicine at the Sorbonne and became medical doctor in 1909. As member of the International Red Cross in Geneve, she participated in delivering packages with food and other aid to prisoners in Hungarian camps from 1915 to 1917. Besides her humanitarian work, she organized a group of volunteers, consisting of doctors and other medical staff and participated with them in the breakthrough of the Salonica Front.
She was awarded Karađorđe's Star with Swords, French Legion of Honor and Oficier medal of the French Ministry of Education, for her great contribution in the war.
The Petrović and Karađorđević monarchial dynasties respected her greatly. After meeting her in the war, King Petar Karađorđević often invited Divna to his palace.
Besides being medical doctor, Divna was also engaged in ethnographic research, and collecting such material, as well as literature. She successfully defended her doctoral dissertation in literature in 1926 in Belgrade, thereby gaining the title of doctor of Yugoslav literature sciences.
LITERARY AND TRANSLATION WORK
The preface for the first translation of Mountain Wreath in French (Les la­u­ri­ers de la Mon­tag­ne) done by Divna Veković in 1917, was written by Henri de Régnier, French writer and academician. Copies of Divna's translation of Mountain Wreath were handed out to French and allied soldiers in trenches, as reference to heroism and unyielding while fighting for freedom.
The Petrović Palace, Prince Nikola and Princess Milena, gifted Divna Veković a unique broach made of gold and platinum depicting Njegoš. Such type of awards were given to high ranked ladies in other European palaces, so Princess Milena established the award in Montenegro as well, looking up to European role models.

Divna also wrote and translated French-Serbian Dictionary and Serbian-French Dictionary (Belgrade, 1924), Blood Feud (Paris, 1931), French-Serbian Grammar (1916). Besides Mountain Wreath, she also translated Jovan Jovanović Zmaj's Poems into French (1939), as well as Life and Customs of Serbian People (1922) and Serbian Folk Tales (1934).
By translating selected works of Serbian literature and ethnographic heritage, Divna Veković wanted to present important achievements which made part of the basis of national literature and cultural heritage to the French cultural public. By choosing to translate Njegoš' Mountain Wreath, she introduced the French readers to one of the greatest geniuses, to a strong poetic and philosophical thought of an author who "shines lonely, in the sun above the sea"… The first awareness comes out of the darkness. Great as Aeschylus, he transforms us and takes us before what is unknown and unseen, almighty and omnipresent, incomprehensible and timeless. With him we stepped before God, with murder on our hands. He brings longing for a new destiny and meaning of our existence in the world. Not even death is calming down murder: he is watching something else from Lovćen, enormous and omniscient."
She spent her years in Paris working on presenting both Montenegro and Kingdom of Yugoslavia, both through literary and translation work and many other activities.
PUSHED INTO DEATH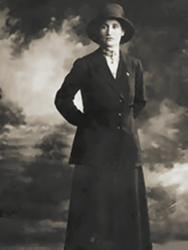 At the beginning of World War II, she returned to her Vasojevići from Paris, to use her knowledge and engagement to help her people. She wasn't into politics, she was not a member of any party, but she always, until her tragic death, remained faithful to the monarchy. With her experience as doctor from WWI and breakthrough of the Salonica Front, Divna clearly saw the horrible new slaughterhouse and numerous casualties. Since she spoke foreign languages, she helped clan leaders and reputable people in Vasojevići in their negotiations with Italian headquarters. All for the purpose of saving lives of innocent people. Was that considered one of her sins by the new authorities? Is that why she was killed?
She was one of the people in many lines, which retreated from Montenegro through Bosnia, all the way to Slovenia, with Pavle Đurišić's army and many refugees, led by Montenegrin Metropolitan Joanikije Lipovac. All these sufferers hoped for help from allied forces, but they cruelly betrayed them and gave them to the mercy of winners – partisans, to certain death.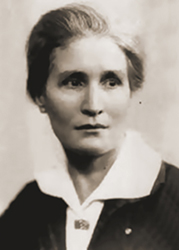 Thus, without any trial or judgement, a horrible crime was committed to Divna Veković.
They killed her by hitting her head with a mallet, in Zidani Most, in the night between May 17 and 18, 1945.
Until recently, the deliberate veil of oblivion was covering the memory of this extraordinary woman, whose activities are an undisputed part of Serbian cultural history. Her heritage, writings, commenced and completed works, everything that made her life, was taken away by someone, perhaps even destroyed, so there are no reliable facts and details about her 59 years of life.
Eradicating reliable traces of the life of this memorable woman, first female doctor in Montenegro, is an attempt to erase traces of a great number of all those people viciously killed, who remained without a cross on their grave, in bottomless burrows, in gorges and ravines, in damned and unmarked places, where their bones are still laying today.
This text about a forgotten heroine represents not only an attempt of rehabilitation, an intention to remove the several decades long heavy seal of oblivion from Dr. Divna Veković, from the Vasojevići village of Lužac, but to give women who contributed to the welfare of their country a deserved high place in national history.
***
Memory
To the memory of noble Dr. Divna Veković, the Diocese of Budimlje and Nikšić established the "Divna Veković" soup kitchen in Đurđevi Stupovi Monastery in Berane, which began working on Easter of 2017.
***
Reliable Allies
Branko Glogovac, writer, wrote about the horrible executions during World War II in Montenegro and sufferings in Zidani Most:
"As we retreated towards Zidani Most, the communist chase came after us with several armies. Several of our brigades were scattered in Slovenia. One group headed towards Ljubljana, the second was captured near Trbovlje, the third near Kamnik, and the fourth was seized by communists in Zidani Most. Before that, the group I was in, 10.000 fighters and civilians, arrived to Bleiburg after a forced march through Dravograd. We rejoiced for the first time. We finally arrived to the English and thought it was our salvation. Our negotiators returned distraught after seven hours of negotiations. They told us we cannot go further and that we should all surrender. Those with blood on their hands will have to face Partisan courts. That is world politics, they said. A few people from our group immediately committed suicide. (…) Those who managed to run away told that one of the most terrible executions took place there, something the the human society did not even know exists. Chetniks were killed in the same way in Zidani Most, Trbovlje, Kamnik, Kočevski Rog."