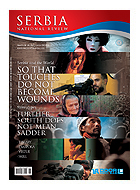 SERBIA - National review no. 28

Prologue
Those who are occasionally hiding behind pseudonym "international community" by their actions produce evidence, on a daily basis, that the world in which we live is a cemetery of justice, truth and ethics. The old Khomyakov was wrong when he said that babbitry would be the last stadium of the western civilization. We see that this stadium is actually senilebarbarism. "Some guys are good, others bad. What group those who killed a child sitting on a potty belong to?" Points of contact between Serbia and such "world" are wounds. Within the project "World in Serbia", almost 200 new students from 40 countries will soon arrive to Avala...
It really seems that the hope is the last to die.
GALLERY

CONTENTS
Prologue
WORLD AND SERBIA: BITTER REALISM AND CAREFUL HOPES
So That Touches Would not Become Wounds
Vitrage
NUMBERS, EVENTS, INTERESTING THINGS
Album
PHOTOGRAPHY BY SRĐAN BELIJ
Event
"GRILL FESTIVAL" IN LESKOVAC BREAKS STEREOTYPES AND RECORDS
The Further in the South, the More Cheerful
The town was visited by 600,000 people from Serbia and all over Europe in seven days. Once again, the biggest burger in the world was made (53 kilograms). Music stars were singing and playing, as well as numerous anonymous entertainers. Everybody was singing "O Sole Mio" in Italian in the overcrowded "Groš". There were delicatessens from Mediterranean, continental Balkans and from the East, as well as local wines. Leskovac, all in flight and fire, reminded its visitors of what it had to offer. "Grill Festival" is, of course, merely a reason. Same as humans, towns have their rises and falls, and it seems that this town is heading upwards once again.
Text and photographs: Dragan Bosnić
Event
"MOMA'S CIRCLE" IN BELGRADE, FIRST TIME AND FOREVER
Tribute to the Most Charming Belgrade
In honor of the famous writer and painter (1937-2010), numerous interpreters and admirers of the "Kapor Legend" gathered on September 9 on Ada Ciganlija. The plan is that this cultural event should, in the next years, become traditional, and last for several days at a time, spreading the Kapor Belgrade spirit across the planet and the environment

Photographs: Infolik.rs
Event
SPECTACULAR EXHIBITION AT BELGRADE UŠĆE, NEAR THE MUSEUM OF MODERN ART
Dinosaurs From Our Neighborhood
They have been transported in nine tow trucks and mounted by cranes. There are 52 life-sized dinosaurs at 16,000 square meters. They were made under strict control of experts from Paleontological Institute from Hanover, Germany. Two days prior to the opening, our reporter found himself there, uniformed of the event. His heart has almost stopped! It is expected that million people will visit the exhibition which is open until 1st November.
Author: Goran Budimir
Photographs: Dragan Bosnić
Event
ENCOUNTERING XX INTERNATIONAL ETHNOGRAPHIC FILM FESTIVAL IN BELGRADE
Time of Disappearance and Arising
It started quietly, in monastery St. Prohor Pčinjski, exactly two decades ago. Perhaps it was not a good year to start something, everything around was ominously falling apart, but people from the Ethnographic Museum, the organizers, knew what they were doing and why they were doing it. This year, from 17th to 22nd October, within several parallel programs, we can see more than 100 films from all around the world in a movie theatre of the Ethnographic Museum, in the Film Archive, in Cultural Centre "Parobrod" and in Ethnology and Anthropology Department of the Faculty of Philosophy. Nowadays, it is a prestige festival, the most creative such festival in southeast Europe. And it is within our reach.
Text: Tamara Nikolić Đerić, Tatijana Rap
Findings
IS PLOČNIK NEAR PROKUPLJE REALLY THE WORLD'S OLDEST METALLURGICAL CENTER?
Center on Three Waters
Until recently, in history and archeology, Pločnik was known primarily for its ceramics, and partly by its figural plastic. Thanks to this year's findings of archaeologists Dušan Šljivar and Julka Kuzmanović, from the Museum of Toplice, Pločnik it can be with confidence determined as the central southern area of the Vinča culture and the place where the earliest metallurgy in the world began. Thus, the time of the creation of the Vinča culture moves from the fourth to even the sixth millennium BC.
By: Gradimir Aničić
Unprotected Beauty
WITH THE VILLAGES, OLD VARIETIES OF FRUIT DESAPERAR FROM THE HEART OF ŠUMADIJA
Taste the Serbian Goodness
The sweetest plums, apples, pears, so characteristic of this earth and this sky, shy away from favored the new varieties, everywhere the same, tailor-made for calculators and retailers. Dula, kantaruša, petrovača, šarunka, požegaca, ranka, okruglica, drenovka, voskovača, kolačara, lonšara, zečica, takiša, lubeničarka... These are just some of the many varieties of popular fruit names in the collection of "Indigenous and cherished fruit of the regions of Rudnik and Takovo" completed by the Natural History Museum in Belgrade: completed, in order to save, for better times and wiser men.
By: Radmila Tamindžić
Photographs: Aleksandra Savić and "Press"
Diaspora
"ILINDEN MEETINGS" IN LAHOLM, SWEDEN, UNDER THE AUSPICES OF THE SERBIAN BRITAIN-SCANDINAVIAN DIOCESE
Lighting up the Orthodox touch
This extraordinary, week-long gathering in the northern Serbian Monastery of the Holy Virgin in Smedjerid, the seat of Bishop Dositej, gathers interesting artists from different cultures and continents. They are followed by journalists, poets, musicians, priests, monks, and numerous audiences in exhibitions, lectures, and film projections. Starting this year, the gathering is listed in the official calendar of the most important events in Laholm municipality.
By: Rosa Petrović Holmberg
Photographs: Ian Holmberg, Kristina Stafstrum, Dragan Đekić
Beacon
MARKO MILJANOV (1833-1901), FAMOUS SERBIAN WARRIOR AND WRITER WHOSE HEROIC STORIES CONTINUE DISPERSING DARKNESS
Examples of Humanity and Bravery
This Kuč stole a rifle from the Ottomans at the age of 14. He became famous for his courage and fairness very early. He was an army duke and hero in the first half of his life and writer in the second. He never flattered the Master or praised himself as many of his fellow countrymen did. He longed for the unity of Serbdom. He was able to forgive personal insults, but never those made to his people. "One could listen to his stories for days", says Matavulj. "As if you were reading old Seneca", adds Skerlić. His "Examples…" are a textbook of our ethics. A testimony of a high culture in a bloody era
By: Dragan Lakićević
Library
MILAN VUJAKLIJA (1891-1955) AND HIS "LEXICON", EIGHT DECADES A LIBRARY MUST
A Book for All Generations
He came from Krajina at the beginning of the previous century, finished grammar school and studied German language and philosophy. He was Tankosić's komitadij at Kosovo, a volunteer in all three wars from 1912-1918. Translator of Schopenhauer, the Grimm brothers' fairy tales, Schiller's ballads, Hoffman's mysterious prose, J. F. Cooper's novels. However, he marked his life and Serbian culture by the great "Lexicon of Foreign Words and Phrases" published for the first time in 1937, with 30.000 entries. So far, that foundation-book has been updated for four times, printed in over half a million copies, and since 2006, there is an electronic version of it
By: Jovo Bajić
Memory
LIFE AND DEATH OF SAINT GORAZD (1879-1942), ORTHODOX BISHOP OF BOHEMIA
Following the Traces of St. Methodius
He was already a forty-two year old Catholic priest when, amidst the ruins of the Austro-Hungarian Empire, he realized that he and his people should look for another path, true Christianity beyond the frames of the mechanized Western religion. He addressed the Synod of the Serbian Orthodox Church which supported him in renewing the Orthodox Church in Moravia and continuing the mission started a millennium earlier by Holy Cyril and Methodius. He was consecrated Bishop of Moravo-Cilezsk exactly 90 years ago in the Cathedral Church in Belgrade by Patriarch of Serbia Dimitrije. He died a martyr death in Prague in 1942, in the retaliation of the German occupation forces. The Serbian Church proclaimed him martyr exactly 50 years ago and celebrates memory of him each September 4
Text and Photo: Milan Janković
Serbian Mythology
RUSALKAS, RED-HAIRED BEAUTIES FROM RIVER DEPTHS AND THEIR FATAL LOVES
Spellbound by the Week of Joy
Some say that myths are the "memory of the race", beyond the opaque curtain preceding history. Description of great events older than time. Life story of the one that fell as a Human and woke up as mankind. For others, they are only made up stories, imaginations of an "omniscient storyteller", "legends made by the people". Whatever they are, the richness of myths and fairy-tales is a certain indicator of the richness and depth of a culture. Serbian culture does have a lot to show, which is to be seen in the upcoming mini-series we begin now
By: Milenko Bodirogić
Illustrations: Miloš Vujanović, MA
Games
JOVO PETIJEVIĆ, SCULPTOR, GUARDIAN OF ANCIENT OLYMPIC FIRES
In the Eternal Perfection of the Sphere
His sculpture of Mother Theresa refines the Nobel Institute in Oslo. Belgrade people know him for his "Traveling Actor" in Skadarlija, "Oak Tree" and "Birds of the Sun" in Košutnjak. He is mainly captivated by the sphere, most of all the one made in wood, because that noble material breathes life into an idea". Before each Olympic Games, including the next year's in London, the artist from Trebinje sends the same message with a special exhibition
By: Aleksa Mitić
Photos: Dragan Bosnić
Virtue and Skill
ALEKSANDAR ĆEKLIĆ, GREAT EXPERT IN THE ART OF BOOKBINDING, SUPERMODERNIST
At the End Will Be the Word
As the just opened exhibition at the RTS Gallery convinces us, a book for him is more than an object. Passion and fascination, invitation to a better world, enthusiasm, the basis of three religions. Thus his dealing with sacral geometry, history of bookbinding, relationship between the hand and the handmade, works with a trace of divinity in them. Indefinitely far away from the planetary dump of useless pseudo-objects, the final objective is to ascend a human through books
By: Dejan Đorić
Parallel City
MIRACULOUS WORLD IN ALEKSANDAR DRAGUTINOVIĆ'S PHOTOGRAPHS
The Second Zemun
One evening, while I was taking a walk down the Zemun streets, I stumbled upon a small green door. Half open. I know there are people who can resist curiosity, but I am not one of them. I bent and pushed the door with my right hand… It seemed as if I found myself in a parallel world, in which everything is the same, yet everything is different. "It's a pity", I quietly said, "I don't have a camera." Without photos, I knew no one would believe me. And after I had returned to the real Zemun, I met Aleksandar Dragutinović at the green market...
By: David Albahari
The Winner
ATHLETE IVANA ŠPANOVIĆ, A CHAMPION, EXCLUSIVELY FOR "NATIONAL REVIEW"
When You Listen to the Anthem and Shiver
"I dread public display of patriotism, because I think that we are not able to describe our greatest loves. We live in the times of false gods and their infinite selfishness. Solidarity and care for public good have been declared as traits of a looser. Nothing can be said about people who are ashamed of what Tesla, Andrić and Olja Ivanjicki were proud of. I was growing up with a somewhat painful awareness that western civilization was in decline, that it is primarily focused on defending the acquired positions, and less on uncovering spiritual depths"
By: Dejan Bulajić
Photographs: Mihajlo Antić,
Alexandar Kamasi and Ivana's archive
Benefaction
XI SCHOOL OF FRIENDSHIP ORGANIZED BY "NAŠA SRBIJA" ON TARA MOUNTAIN
Based on Identity
Serbian children came from eight countries in the region. They learned about Serbian history, culture, religion, ethics and customs via very interesting programs adjusted to their age. They socialized, played and practiced various sports. The presence of the children from besieged enclaves in the occupied southern province was the most significant
Knowledge
REGIONAL PRIZE "EDU-PARTNER 2011" AWARDED TO "SINGIDUNUM" UNIVERSITY
Applicable Value of the Learned
"The prize confirms that we create high quality personnel who can meet the criteria of the economy. They are capable of connecting theory and practice, they are highly creative, and they regard crisis business situations as challenges. They are able to perform working tasks immediately upon employment, and not starting learning only then. We are the first university in Serbia to become a member of 'SAP University Alliance', the program which represents one of the most comprehensive business solutions in the world", says Professor Milovan Stanišić, PhD, the Rector of "Singidunum" University.
Text and Photo: Rozana Sazdić
Knowledge
BELGRADE BUSINESS SCHOOL ALSO ACCREDITED FOR SPECIALIST VOCATIONAL STUDIES
A New Breakthrough in Education
Strategic Financial Management, Business Process Management and Accounting, Control and Audit Management – these are three study programs of the second level of higher education at this respectable school. Up to 50 students can enroll in each one of them. They gain a degree of a vocational study specialist (Professional Master)
Bridges
WITHIN THE PROJECT "WORLD IN SERBIA", A LARGE GROUP OF FOREIGN STUDENTS ARE STUDYING AT BELGRADE UNIVERSITY
"Sooty Alley" on Avala
They are young, beautiful, eager to learn. They came from 22 non-aligned countries, as fellows of the Serbian Government. For a year, they studied Serbian language at the Faculty of Philology and lived at a student hostel on Avala. Now they are commencing their selected studies and are moving to student dormitories, and a group of 17 0 new colleagues are coming here on their place, from 40 countries. They are thrilled with Avala, hostel, people and conditions. In fluent Serbian, they sang a song of "Garavi sokak" (Sooty Alley), a band from Novi Sad
Insurance
"DDOR NOVI SAD" led "THE TOUR THROUGH SERBIA"
An Exciting Time Warp
The company "DDOR Novi Sad", a member of "Fondiaria SAI", supported the "Tour through Serbia" organized by the "Fiat 500 Club Italia". Lovers of "Fiat 500", the famous "fića" were touring in their cars from August 21 to 27, discovering the beauty and richness of Serbia, the "heart of the Balkans"
Lighting
HOW DID PIONEER ERA OF ELECTRIFICATION OF KOSOVO AND METOHIJA ELAPSED
Starting of Machines and Cities
Former great forces, Austria and Turkey, disrupted in concert the construction of the first power plants, and electrification here came quite late in comparison with some other Serbian regions. Electricity arrived in Uroševac in 1922, in Priština and Mitrovica in 1927, not long afterwards in Peć, then Prizren in 1929, Gnjilane in 1932, Đakovica in 1937... By World War Two, 14 power plants were built and 16 settlements illuminated, including five vilages
By: Zoran Plavšić
Introduction
ENGINEER PETAR KNEŽEVIĆ, DIRECTOR OF THERMAL POWER PLANTS "NIKOLA TESLA"
Price of Noble Energy
We can calmly wait for the winter and heating season. Everything is ready. Although the hydrologic situation is bad this year, thermal energetics has covered the increased consumption during the past hot days. TENT, the backbone of this process, provides one half of total power in Serbia from 3,300 megawatts of its installed power, which represents one third of the installed power of the Electric Power Distribution of Serbia,. In September, the nine-month plan was realized with 105.49 percent. By 2017, strategic investments into production and environmental protection will take place
By: Aleksa Mitić
Energy
CRUCIAL TRENDS IN BUSINESS OPERATIONS OF "ELEKTROVOJVODINA" IN 2011
The Year of Wise Growth
Reduction of electrical power loss and increased collection of payments are important traits of this electrical power supply company business operations. The cost for the first six months have been cut in half. Genuine concern about available resources and system efficiency, cost-efficiency, modernization of business operations at all levels, timely investment in human resources and facilities give good results and lead to the accomplishment of strategic goals. In addition, perhaps most important, it undeniably shows that it is possible to succeed despite all