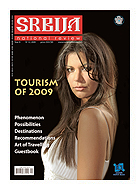 SERBIA - National review no. 12

Prologue

The number twelve has a complex and ancient symbolic value. Twelve is the number of Christ's apostles, months in a year, zodiac signs. Twelve Knights of the Round Table, Olympic gods, fruits from the tree of life, tribes of Israel. There are twelve golden gates of Heavenly Jerusalem.
National Review dedicates its complete twelfth edition, which ends the second and starts the third year of its existence, to tourism. You shall find out why.



GALLERY
CONTENTS
Prologue
TWELFTH EDITION OF NATIONAL REVIEW
Ode to Tourism
The Beautiful Face of Serbia
PHOTOS BY MIŠA OGNJANOVIĆ
History
TOURISM, A SUBJECTIVE CHRONOLOGY
Years, People, Events
History
BRIEF HISTORY OF TOURISM: FROM A SMALL PERSONAL ADVENTURE TO A BIG PLANETARY BUSINESS
Traveling as a Global Phenomenon
It used to be the privilege of the richest. Today it is mass and related to almost all social classes, generations, lands. Thereby it became a separate branch of economy, it is studied at separate universities, managed through special departments in governments, and special organizations and media are engaged in it. Since mid-XIX century, when first organized forms of this activity in the modern sense of the word were recorded, different forms of tourism have been classified, from adventurous to space, from hitchhiking to elite, from sports to health, from metropolis to seaside and mountain…
By: Nenad Despotović
History
A SHORT HISTORY OF TOURISM IN SERBIA: HOW WE CONQUERED THE PLACES WHICH INSPIRED US
Tribute to Travelling
Some forms of what we call tourism have been present in these areas back in the old age, a long time ago. The Romans have used mineral and thermo-mineral springs on 53 locations, building thermae, summerhouses and nursing homes for warriors. The first tourist object in new-age Serbia was built in Sokobanja, on the command of Prince Miloš. The first ticket was issued by the prince's office in Kragujevac on June 21st in 1837. The first tourist agency in Serbia was "Putnik", established in 1923. In 1924, "Auto klub" was founded, which was taking care of tourists with vehicles who were visiting Serbia
By: Zoran Plavšić
Strategy
SERBIAN TOURISM: NEW RECOGNITION AND UPSWING
Three Basis of Development
Basic development document of tourism in Serbia, from April of 2006, says that important elements of the competitiveness of Serbian tourism are people, geostrategic position, water potential, mountains, forests, rural areas, monumental heritage, the current cultural and spiritual creativeness, festivals, celebrations, events (life style). The development concept of Serbian tourism has three bases: the tourism valorisation of the term­ Balkan, the tourism valorisation of the Danube, the integral interpretation of the Serbian agglomerate of values
Mountains
THE MOUNTAIN BEAUTIES OF WEST SERBIA
In the Heart of White Landscapes
Following the Canyon of Drina River, we arrived to Zlatibor, we skied on Tornik (for the first time after nine years, after the bombing of ski paths here), we sled on Obudojevica, and we studied the history of Zlatibor tourism on Kraljeve vode. Then, we looked at Tara mountain and we headed to the most beautiful plateau of Mokra Gora, to Drvengrad, a fairy tale-like little town, as it was made in a pastry shop, where life really is a miracle, or a dream, or imagination or freedom. We will meet Jim Jarmusch, Emir Kusturica and about 30 future great men of world cinematography
Mountains
RTANJ, THE EMPEROR OF SERBIAN MOUNTAINS
Memories Last Longer Than History
When a man sees it, he knows that the mountain is holding a secret. Scientists claim that it is an extinct volcano; many local legends see a giant tomb of ancient deities, even a UFO station. And this "mysterious mountain of stories and hope", "a pyramid at one end, and a sphinx on the other", which reminded some authors of Fuji, some of Kilimanjaro, our mountain, full of medicinal herbs, clear waters and stunning landscapes. It was once a vacation area; it had a mine, ski terrains, a chapel on its top, a botanical garden, a greenhouse. Today, the mountain is left only with us and it is waiting for us
By: Vlada Arsić
Paths
WATERFALLS OF SOPOTNICA, ABOVE LIM RIVER, THIS SEVERE WINTER
A God-Sent
The legend says that a long time ago God offered some shepherds from Jadovnik to choose: water or happiness. They immediately picked water. And God fulfilled his promise. There is water in abundance, and many springs, and the water is pouring all around, making wonderful cascades. The reporter of "National Review" spent some time there, in the season when waterfalls are mighty iced pillars, and the gifts of the mountain are smiling at us and making life more easy
By: Luka Vesković
Photographs by: Dragan Bosnić
Welcome
THE TOURIST ORGANIZATION OF BELGRADE: HOW TO BEGIN AND CONTINUE DISCOVERING THE SERBIAN CAPITAL
The Ancient Town of the Future
During your stay in this charming metropole, in places that we recommend or many other places that we will not even mention, you will realize that you are mysteriously related to this town, much deeper and very hard to explain. After the first meeting, Belgrade stays with you. You can prepare your suitcases, announce your departure, check-in, leave to richer, more logic and more decorated towns, but you can never leave for real. There are people, towns and places to which we say "farewell" but we only mean "'till next time"
Visiting
NIŠ, IN THE GLOW OF CONSTANTINE'S TOWN, WHICH IS GETTING MORE ATTRACTIVE FOR DOMESTIC AND FOREIGN TOURISTS
New Rise of the Southern Capital
The 1700th anniversary of the Edict of Milan, legalizing Christianity in the Empire, brought by the Roman Emperor Constantine the Great will be celebrated in 2013 in Europe. The central place of the event will be three towns which are directly connected with the life of Constantine the Great: Niš (his native town), York (where he was proclaimed the Emperor in 306) and Trier (where he reigned). So, in 2013 Niš will be the centre of European attention. It will be a great chance both for Niš and Serbia
By: Goran Budimir
Destinations
THE TOURIST OFFER OF PIROT AND SOUTHEAST SERBIA, NEW TRACES OF OLD ATTRACTIONS
To Meet Means to Fall in Love
Vivid areas, fascinating mountains, springs, rivers, waterfalls, great possibilities for hunting and fishing, old authentic villages, monasteries, old crafts and really respected products, gastronomic and custom specific details, and among all the people and their character – all of this makes the area of Pirot and Southeast very attractive for modern tourists. It is also shown by a four-figured number of nights spent in the homes of the community of Pirot which are into country tourism
By: Dejan Ćirić and "National Review"
Old places
"NATIONAL REVIEW" ON THE COAST OF OHRID LAKE
The Veil of Centuries
Ohrid, the old town full of Serbian history, still preserves Samuil's Fortress, the heritage of Slavic University and Slavic literacy, the traces of Emperor Dušan and Marko Kraljević, all its epochs and periods. We remember that Saint Nikolaj (Velimirović) was the Bishop of it and wore the name of Ohrid, we know that the famous Stevan Hristić dedicated a ballet to Ohrid ("The Legend of Ohrid", 1947), and we still feel the scent of the linen Biljana was bleaching on Ohrid. Today, when it is the main tourist attraction in the neighbouring state, in the summer, it is most visited by the Serbian people
By: Mišo Vujović
Pursuits
HOW TO DISCOVER THE BLESSING OF WINE CELLARS OF TVRDOŠ MONASTERY NEAR TREBINJE IN HERZEGOVINA
The Spark in the Wine and in the Man
Monks of this monastery, with Prior Sava, on the basis of long traditions began a new chapter in Serbian monastery wine-making. They are taking care of 70 hectares of vine in Trebinjsko polje and they planted 60 more hectares of young vineyards in Popovo polje. Right there, between the mighty stone hills and the wisdom of the nearby sea, they get delicious wine, like nowhere else in the world
By: Slavomir Ćirović
© Tvrdoš Monastery
Invitation
ALL THE WAY THROUGH VOIVODINA
Yawls on the Road, Carts on the Danube
Wherever you go through the northern Serbian province, you cannot be mistaken. Beautiful towns and gifted people, beautiful sights history and culture, a never-ending plain and two mountains, porches and farms, wheat and wine, poets and tambouritza players, and many more which cannot be mentioned here – all of this can make your trip last longer, even a life-time, and it could make you stay forever even if you think you left a few days later
By: Aleksa Mitić
Oasis
FARMS (SALAŠ) OF VOIVODINA, AS PEARLS IN THE NEVER-ENDING PLAIN
New Life of Old Households
Several decades ago farms were abandoned and have become feeble in the meantime. But, in the last few years, they have experienced true renaissance and become one of the main trends in Serbian tourism. The same thing that took people away from them, in the enthusiasm of industrialization and proletariat, is now taking them back from overcrowded and nervous towns
By: Jelena Nikolić
Calling
EXPANSION OF RURAL TOURISM IN SERBIA AS AN ECONOMY TRUMP CARD AND PHENOMENON OF SELF-DISCOVERY
Observe and Measure Where You Like It
This type of offer in Serbia, which made some countries real tourism powers, attracts with its joyful simplicity of life, high quality and authentic cuisine, traditional openheartedness of the hosts, beneficial surroundings, numerous unusually usual activities, "remembering our roots". Since the famous film director Emir Kusturica raised his Drvengrad in Mokra Gora, many charming and authentic ethno-villages have been built all over Serbia, which convincingly reminds us once again of the power of positive examples
Text and photographs: Dragan Bosnić
Road Sign
OPLENAC, ETERNAL HOME OF THE KARADJORDJEVIĆ FAMILY, EXCITING MUSEUM OF HISTORY AND NATURE, UNFORGETTABLE VINEYARD
Lead by a Royal Feeling
The interior of the Oplenac church – a true anthology of Serbian medieval fresco painting given in a mosaic, consists of 725 painted compositions, with 40 million glass particles in 15 thousand hues! Personal belongings of Vožd Karadjordje, mantle and crown of Peter I, diadem of Queen Marija, eyeglasses which Aleksandar wore for the last time in Marseille in 1934 can be seen in museums and galleries. In the Royal Cellar, one can see the wine archive from 1931 and taste some excellent younger wines. You can also just stroll through the woods, pick mushrooms, gaze into the distance and finally listen to your own heart
By: Dragica Bajić
Photo: Dragan Bosnić
Remedies
SERBIAN SPA TOURISM AS AN EXCEPTIONAL COMPARATIVE ADVANTAGE
A Cure for Every Disease
More than one thousand different healing springs, of which 160 arranged, and more than 40 active spas, are all the most important part of Serbian tourist economy. With such gifts of nature and using modern therapeutic methodology, a great range of illnesses and health difficulties are treated. Old doctors say: you should go to spas before you will need real treatment, in order that you do not need it. But, if you do need it, you should go as well. One can heal sadness, boredom, alienation, cowardice, impotence and conceitedness, almost all defects typical for the modern man
By: Jovana Jelić Banović
Projects
"ROUTE OF THE ROMAN EMPERORS IN SERBIA" – AN EXTRAORDINARY RESOURCE FINALLY COMING INTO FOCUS
Ancient Boom of Serbian Tourism
Sixteen Roman and two Romain emperors were born on the soil of present Serbia. In their homeland they built cities, palaces, thermae, summer houses, sanctuaries, bridges, led epochal battles, signed edicts which changed the history of the then world. The particularly attractive "Roman Tour", as a new part of the Serbian first-class tourism offer, will be around 600 kilometers long. For the beginning, it would include building 100 Roman boarding houses in natural surroundings and numerous manifestations which would revive the everyday life from the period of the Roman Empire, Roman cuisine and fashion, art and crafts, music and theater…
By: Vladimir Putnik
Games and Rituals
ETHNO-CULTURAL AND TOURIST EVENTS AROUND THE YEAR, THROUGHOUT SERBIA
Reflection of the People's Spirit
They are the places of gatherings and specific social rituals, the mirror of folk life. They represent its cuisine, costumes, tastes, humor, imagination. The name of the event is always only the reason for gathering. Everything else is woven behind it and around it into a complete event. Vividness and authenticity, as well as the fullness of the experience, attract about a million visitors each year
By: Sonja Belić
Notes
AN UNUSUAL PHENOMENOLOGY OF TOURISM
The South is Sleeping After Lunch
You can put it that way, as well. As we know it, there is a little joke in every joke "The South does not know how to work, and the North does not know how to live." And they pay dearly for it. And so, having sold the benefits of a fine climate, history, hospitality, air and water for two months to the North, the South will buy heavy winter overcoats for young Southerners in September and send them along to the North to study. The North will not say 'thank you' for getting its money back
By: Momo Kapor
Media
SRBA JANKOVIĆ, BARD OF SERBIAN TOURISM JOURNALISM
Companion of Generations of Tourists
He worked for almost 40 years, published more than 6.000 detailed newspaper texts and was a witness of the birth and development of modern Serbian tourism. Those were different times, writing about this field was not reduced to mere marketing or spinning, a pen was able to change the course of events, and the one writing was an important and respected social figure. The media were there to inform, educate, entertain and were much more than a banal managing instrument or input machine. However, there are still those who continue defending the profession, sense and dignity
By: Jovo Bajić
Media
TOURIST ECONOMY IN THE ELECTRONIC MEDIA: "IMPRESSIONS"
Tourism Sees It All
For eight years of broadcasting, through its 550 editions and 3100 minutes of premiere program, this specialized series of RTS had really contributed to the raise of standard in Serbian tourism and made possible comparing it with world offers. It taught us how to find our own authentic values and make them closer to the domestic and foreign guest
Media
INTERACTIVE WINDOWS IN BELGRADE AS AN IMPORTANT SOURCE OF INFORMATION
New Means of Communication
In contrast to many media which broadcast messages intended for everyone, here we have a screen serving as an individual and the individual's special needs. With a simple touch on a certain field, textual and visual information on the selected subject is open. Communication lasts on a number of levels and as long as the user wants it. That way, you can find out, in both Serbian and English, where to have fun, go shopping, eat, sleep, what are cultural and sport programs of Belgrade, what will the weather be like, the daily exchange rate and many service information
The Beautiful Face of Serbia
PHOTOS BY DRAGAN JOVANOVIĆ
Perspectives
SERBIAN BUSINESS ASSOCIATION OF HOTELS AND RESTAURANTS KEEPS THE PACE WITH TIME
Power of Regional Relations
When appearing before the demanding foreign markets, we are more attractive and stronger if we create our offer as a region, than if every country is individually presented. As a true representative of the region and with a big support from the immediate surroundings, Serbia will be the organizer of the International Congress of Hoteliers in October 2009. There are many more things to do, change and correct in order to truly develop tourism, however, it is obvious that we have good paths before us
Knowledge
THE COLLEGE OF HOTEL MANAGEMENT IN BELGRADE, ITS EUROPEAN VICTORIES AND MEDALS
Learning Success
The students of this school have more victories than most of the sports clubs. They have driven from the throne world masters of culinary art of Italy and France, bringing medals from Russia, Estonia, Italy, Turkey, and England... One student of the college, during official practice in the London "Claridge's" Hotel, was declared to be the best cook in Great Britain! Why does not anyone offer them more acceptable options to stay in Serbia?
Introducing
"MERKUR" FROM VRNJAČKA BANJA FOLLOWING MOST ATTRACTIVE WORLD WELLNESS AND SPA PROGRAMS
Understanding Your Own Body
"We recommend you to run away from the often crazy rhythm of everyday life" they say in "Merkur". "Give yourself a little time: a weekend once in two weeks, or a seven-day vacation and some pleasure in our Wellness centre. Discover how to understand your own body, how to let the energy of your spirit to be free!"
Introducing
"JAT – HOTELI SLAVIJA" AND TRADITION OF A CENTURY AND A QUARTER
Decades of Success
"Slavija I" ("The Tower") was open in 1962, before the European Athletics Championships, "Slavija II" in 1973, before the World Swimming Championship and "Slavija Lux" in 1989, before the Conference of Heads of State or Government of Non-aligned Countries. Three hotel buildings, a very important part of the tourist offer of Belgrade, now have 431 rooms, 23 suites, eight "catering units" (restaurants, cafés, bars, halls) and many most modern complexes
Hosting
HOTEL AND RESTAURANT "DUNAV" IN SREMSKI KARLOVCI, A PLACE ONE ALWAYS RETURNS TO
The Beautiful Temptations
Reflections of numerous famous edifices of Karlovac glitter on this relatively new building over the waters of the mighty river it was named after. "Dunav" soon became part of all tourist and gastronomy maps of the famous town and this part of Serbia, enlisted as one of the must-visit places
Hosting
MIHAJLO SALATA, THE MANAGER OF PIZZERIAS AND RESTAURANTS "ORAO" IN BELGRADE
The Winning Team
During its 20 years old history, pizzerias and restaurants "Orao", with three hosting objects (and the forth one coming), have now a very firm position on the tourist and hosting map of the Serbian capital. According to the quality and gastronomy skills, the ambient and the services, the specific hosting philosophy, those restaurants have become recognizable a long time ago
Presenting
"DONČO" IN OHRID, PIONEER PROJECT OF THE PRIVATE TOURISM INDUSTRY IN FORMER YUGOSLAVIA
View of Samuel's Fortress
Gastronomy
"SENT ANDREJA" RESTAURANT IN ZEMUN
The Fine Spirit of Serbian Restaurants