Drama of the heart
THE MURDER WHICH ENTERED THE POETRY ANTHOLOGY
I watched it all in the darkness behind me
After fatal gun shots in the chest of his beautiful and treacherous wife, Vojislav J. Ilić Jr., in great pain and with a GUILTY conscience, wrote his best poems and reached the top of Serbian love poetry
By: Petar Milatović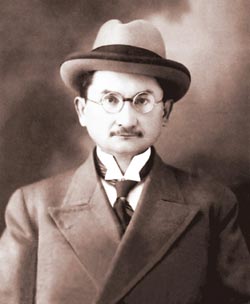 The news was spread in whispers. It was not the fear, but no one could believe what happened. The guests of "Žmurko's Bar" and "The Golden Faucet", in the Belgrade Terazije Street, one across the other, were looking forward to every new guest in order to confirm what they have just heard.
— How did it happen that such a beautiful woman got killed? Is it possible that such a respectable state official, and a poet, becomes a murderer?
Questions which flew over the town without a reliable answer got their official confirmation in tomorrow's newspaper, on the fourth hot day of July 1905.
"Yesterday night, Vojislav J. Ilić Jr., the count clerk of the Court of original jurisdiction of Aleksinac, killed his wife in Krivi Vir, in the district of Boljevac, where she worked as a teacher. Ilić, aka Junior, was a poet and many of his poems were published in many literary magazines. Right after the act, Ilić ran away into the woods and a search for him was organized."
The news about this event came out of the blue, especially in literary and clergyman's circles. In literary circles – because poets dreamed of and glorified woman's beauty and did not draw guns at them, and in clergyman's circles – because both the killer and the victim came from families which favored the Church...
This crime, provoked by a love drama, left an important trace in the history of our literature, as well as in the police chronicle. Namely, the poet who was trying to stand out in his work, and later the sadden poet full of remorse, with a guilty conscience for what he did in the moment of madness, wrote beautiful and moving verses which the esteemed critic Bogdan Popović inserted in his Anthology of Newer Serbian Lyrics. There are three of his pomes: "The Bells Toll...", "Walking Through the Night" and "Night Music". 

DOUBTS

The tragic hero of this story, Vojislav J. Ilić Jr. was born on October 7th 1877 in the village of Oreovci near Požarevac. He went to primary school in Oreovci, to high school in Kragujevac and to Law School in Belgrade, where his father Jovan was a priest, later a court first priest, in The Church of St. Marko in the Tašmajdan Park.
He started publishing his poems as a student, first in the magazine called Brankovo kolo (Branko's Dance) and later in the magazine Zvezda (The Star) which was edited by Branko Veselinović. While most of Zvezda's contributors had secret sympathy for the editor's daughter Persida, called Pepa (some of them even wrote her songs), our law student fell in love with a girl named Darinka, a student and the adopted daughter of the priest Miloš Simonović. It was at the end of the century and they got married right after Vojislav graduated.
For Vojislav's job, the young couple moved through Serbian towns and ended in Aleksinac, where our clerk started suffering from tuberculosis. The doctor recommended him to go to the seaside. He stayed there for a very short time because Darinka never answered any of his letters so he rushed back to Belgrade, filled with suspicion. After many argues, they came back to Aleksinac, where their daughter Julijana was born, named after Vojislav's mother. 
Short after that, Darinka was appointed teacher by a state decree in Krivi Vir, a village on the road from Paraćin to Boljevac and Zaječar. Vojislav stayed in Aleksinac, far from his wife and child. And there was the suspicion again, but the wish for the family to unite as well, which started to haunt him because Darinka did not answer any of his letters. And then horrible news reached him – their three month old daughter Julijana died. She was buried in Krivi Vir. Vojislav had to go back to Aleksinac and Darinka stayed in the village.

THE MUSICIAN

Darinka joined Vojislav in Aleksinac for Easter but the visit was under the shadow of a tragedy which only intensified marriage argues. Some time later, Vojislav would admit to a friend that he was especially hurt "when she sold the hat I gave her at a very low price". About two months later, Vojislav came to Krivi Vir, already suspicious, and he was left petrified after hearing his wife's confession about being unfaithful.
Previous marriage argues, the tragic death of the child and long lonely nights in an aimless village and a handsome music teacher, very skilled with his violin, led her to this. Darinka tried to explain this adultery to Vojislav. At first, he was paralyzed. Then, he grabbed the kitchen knife, ready to kill himself. Darinka hardly talked him out of doing it and by morning, their conversation was pretty calm. Crushed by love full of dangerous jealousy, Vojislav went to Belgrade. He thought that he can find some comfort among his friends and maybe a good advice for what he should do next. 
Returning to Krivi Vir, with a firm intention to forgive Darinka her adultery was fateful even if the first conversation never announced a tragedy. She agreed to sell her silkworms that she raised, and given that the summer recess just started, she decided to leave the village with him. And then, she suddenly changed her mind. That is when Vojislav lost his senses leading to the accident...

THE GUN

About ten days later, he explained it to the investigating officers:
"In the morning on July 3rd I wanted to enjoy marriage pleasure because I have already decided to leave. But she would not fulfill his wishes. I thought that she does not want to leave with me because she was saving herself for another man, I grabbed a piece of wood in madness and hit her in the head, her blood was all over me, she rushed towards me, hitting me in the eye, and I was raging as a bull, reaching my gun which was lying on the table and shot her as she was leaving the room. She fell down, hit in the chest... Oh! I lied on the bed in order to kill myself but I could not shoot being so confused..."
The actual story says that Vojislav J. Ilić Jr. ran out of the house in madness and went into the woods, stopping at the bottom of a rock above the River Timok. That was just the spot where he used to go with Darinka when they were happy and he described in the poem "The Walk". He reached his pocketknife in despair and cut the veins on his left arm. 
At the exact moment, a farmer passed there and saw a man in a town suit but without his hat which was unusual and a true heresy these days. Besides, he was petrified and he did not pay attention to the farmer. The farmer ran off to Krivi Vir straight to the police officers who already felt who he was talking about, after they conducted the investigation on the murder of the village teacher. Vojislav was arrested and escorted, or should we say carried, to the village office. Pretty soon, Darinka was buried on the village cemetery because it was so hot that it should not have been dragged out.

THE VERDICT

The police officer escorted the tied up Vojislav on a peasant cart with the sound of moaning church bells toward the district prison in Boljevac. Some time later, the killer described the stirring moment in the sad song "The Bell Tolls..."
The court trial for Vojislav J. Ilić Jr. took place in the Court of original jurisdiction in Zaječar, in August 1906. The indictment, according to article 156 paragraph 2 of the Criminal Code of the Kingdom of Serbia, charged him with "intentional murder without premeditation", because "in the night between July 2nd and July 3rd 1905, he shot his wife Darinka, a teacher from Krivi Vir, in her own apartment..."
In the explanation of the verdict on the last day of August, which this journalist found thanks to the descendants of the accused, "it is established that the accused was raged because of the acts and great extortions from the victim, the deceased Darinka, when he killed her". Many witnesses have confirmed that Darinka was an unfaithful wife and that she lived with Živojin Stojiljković in an illegal relationship in Krivi Vir.
The presiding judge Ginić then cited that "the investigation found that the letters and the advices from her husband had no influence to the victim and that she did not get back to the road of virtue and honesty and she went on with her indecent behavior..." According to the witnesses' statements "the victim used to take long walks with the teacher Živojin, aka Žika, and often stayed at his place". Her landlord told that "teacher Žika often, but secretly, visited the victim's apartment – they were drinking coffee, chasing around the apartment and once he saw them lighting a candle and lying together in her bed..."
The court established, after many witnesses and proofs, that "the accused loved his wife but that he was very upset and worried because she did not write him back..." and that "the accused was ill for a long time and that he was suffering from high excitement and neurosis..." That is why it is not surprising that the court concluded that "the accused made this criminal act without any previous calm thinking about it, in an excited state of mind, provoked and led to the very same condition because of the killed Darinka by her immoral way of life, with which he was familiar, but not as much at it is stated here..."
Vojislav J. Ilić Jr. Was sentenced to six months of prison "from the day of the arresting and he should pay 20 dinars to the court and the costs for the temporary arrest..." On December 2nd of the same year, the Appellate court confirmed the verdict of the Court of original jurisdiction of Zaječar...

A NEW LIFE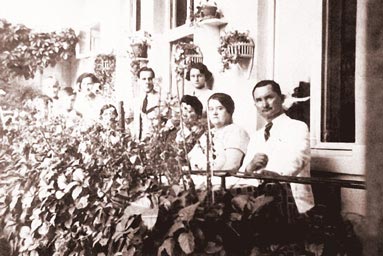 The poet who wrote his best lines after the tragic event in Krivi Vir married Jovanka Prvanović a few years later, a housewife and had eight children with her. He lost three children in that marriage. Today, only Katarina is alive and she lives in Mostar.
Vojislav J. Ilić Jr. is the author of about 40 books of poetry, stories, anthologies, essays, reviews and translations. He was a respectable poet of his times about which witnesses the fact that the choosy Geca Kon published his collection of poems in 1936, on 940 pages and 3065 copies  printed, at the time when books were printed in only 500 copies and they were only 100 pages long.
Some of his poems, especially the ones inspired by the tragedy in Krivi Vir, were a required reading in textbooks, and no court celebration could not be imagined without his "declamations". After all, he had a modest honor to make a speech in front of the catafalque of commanders Radomir Putnik and Živojin Mišić.
He died on May 22nd 1944 and buried in the family mausoleum on the Belgrade cemetery.
After World War II, his name nearly disappeared and it only started to come back some time ago. In Žabari, the Cultural Center was named after him, and there is also a literary award "Vojislav J. Ilić Jr." for children's poetry which the poet even wrote himself.


***

The two poets
The Serbs believed that Vojislav J. Ilić and Vojislav J. Ilić Jr. were related. But they are not. The hero of our story added the nickname "Jr." in order to differ from his famous precursor (they had the same name, surname and middle name) who lived from 1860 to 1894. It is interesting that both families lived close to each other, in the Belgrade community of Palilula.

***

Verses on Zejtinlik
Verses carved into the east gate of the military cemetery on Zejtinlik near Thessaloniki were often attributed to Vojislav J. Ilić, without the nickname "Jr.", not paying attention to the fact that the precursor died 20 years before the beginning of World War I.
The verses were written by Vojislav J. Ilić Jr. And they were selected after the (strictly anoymous) state competition, including the jury with Bogdan Popović, Aleksandar Belić and Stanoje Stanojević.

***

The Bells Toll…
Rushing on a path from the disastrous village,
Through golden corn fields,
Me and my sad guardian
Finally sat by the road, so tired.

Doubts and appeals, anger and restless joy,
I watched it all in the darkness behind me
And a wild treacherous youth which
Began with joy and finished with death.

Where are those pleasant days and hours,
When we disappeared in the woods,
And got lost,
And then found each other again?

…And look! My guardian took off his hat!
Where are his thoughts taking him?
"What is it, my brother?" I asked, terrified,
He said "The bells toll… They are carrying her..."

Go forward!... The coachman
Is whipping the tired horses.
The guards are silent…

Do I hear the bells toll…?