Gastronomy
"BELLA CASA" RESTAURANT IN ZEMUN: THE MEDITERRANEAN AND THE MIDDLE-EUROPEAN
A New Pearl on the Danube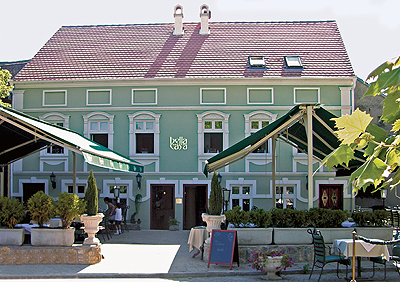 The new international restaurant in Zemun "Bella Casa" ("Beautiful Home" in Italian) was open on March 6th 2008, and it completely justifies its name. It is placed in a beautiful place on the Danube (Kej oslobođenja Street 37), in a carefully reconstructed houses from the 19th century, built in the style of "Danube Classicism", attracting everyone's attention with its beauty and its expressive colors among many coast restaurants in Zemun, between "Sent Andreja" and "Šaran". The restaurant owners are the well-known tourist worker Beba Božović and a Greek from Cypress Nikos Aristidis, her business partner.
For its exterior, interior, furniture, menu, drinks, and its delicate mixture of elements which we call style, "Bella Casa" is different from other restaurants. The fine facade from the 19th century is an exquisite mixture of neo-Classicism and modernism. Halls in the ground floor and in the first floor, the garden, the view of the river and the quay offer us many possibilities.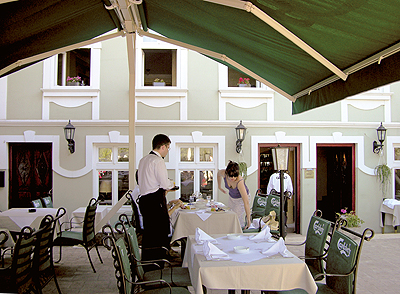 – Our cuisine, a specific unity of Mediterranean and middle-European cuisine, differ us from nearby restaurants – says Tijana Jovanović, the restaurant Manager, for the National Review. – We intend to make a synthesis of the best things from the Mediterranean cuisine and Serbian love towards meat. Specialties such as turkey meat with pastry, meat prepared in specific ways, many spicy sauces which are added to meals, a great selection of cheeses, famous wines (French and Chilean), top-quality cognacs and other spirits, first-class tobaccos for experts and people who enjoy it, hospitability towards the foreign and domestic guest, are only some of the parts of the mosaic of our different character.
The service is classy and intimate, the sense of details is outstanding, and the music is Mediterranean, slow and enthralling. In "Bella Casa" restaurant you can find all this, in the first season of their work, despite the strong competition of old restaurants of Zemun, bringing out the unique identity and provides one of the most important positions on the coast of Danube.
***
Turkey meat in cherry sauce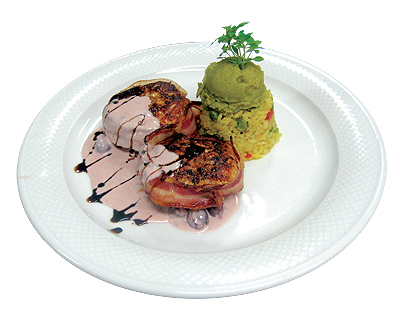 You need: 230 grams of turkey breast, 30 grams of bacon, 1 gram of salt, 1 gram of pepper, 2 grams of sodium glutamine, 10 grams of oil, 30 grams of peas, 30 grams of paprika, 100 grams of beef bouillon, 3 grams of curry, 100 grams of rice, 30 grams of cherries, 20 grams of gorgonzola cheese, 80 grams of cream, 10 grams of fresh sweet basil, 10 grams of aceto cream.
Cut two equal pieces of turkey breast and roll them into bacon, attaching them with toothpicks. Marinate with spices and grill it.
Garnish: fry paprika and peas in oil, adding the bouillon. When paprika softens, add curry and rice, garlic and spices.
Sauce: cook cherries in the bouillon, adding gorgonzola cheese. Add cream and season the meal. Serve following the example on the picture.