Prologue
FROM THE TOP OF THE WORLD
Children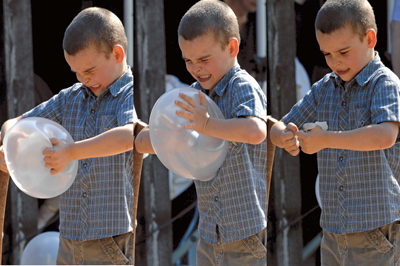 While she is overcoming the last obstacle, the step of Ana Ivanović is light and confident. Yes, there she is, on the top. Number one. Down there, she looks at the world, as an image through tears of joy and spite. She covers it with her charming big smile.
Does this great girl, that child, even know that there are days and nights in her country, that there are people and destinies to which that solar smile of hers makes their lives much easier? Does she know that she is one of the pieces of pride and self respect on which everything could be built again?
Now, when everyone could just hush it up, let us remember. It was the end of the 90s, tough times after and before the war, and a group of super-talented children of Serbian tennis were on the beginning of their carriers. Great expenses, faraway journeys, long stays, equipment, games, it was all depending on the parents, and around were many closed doors and useless stories. The fathers of Ana Ivanović and Novak Đoković said:
"It is only a matter of time when these children will be on the top of the world. Now, they need minimal support. This is their country and no one is more important or more competent to help them. And if the entire load is left for their families, we have to find the way to support it, we cannot give up. But, will that be our success, the success of Serbia?"
The matter of time was solved; the golden war children are on the top. No one really overworked then, but we celebrate their successes as our own. The famous American tennis trainer Nick Bollettieri, in whose camp many mega-stars started, says:
"The rise of Serbia as a tennis major power is completely crazy. There is no logic, no rational explanation, no unique program for the development of young tennis players... that is why it a completely weird situation, the geographic mistake of talents. However, it is an effect that will help the Serbian tennis to improve. But, why it appeared, it will remain a mystery."
Last year, answering a question about the roots of "the Serbian tennis miracle", Novak Đoković answered smiling: "There is no system. The system is to be built. There are only people. The secret is in the people."
That is why we think even more of our own children.
We have nothing more valuable than our children.
No better investment, no bigger certainty, no beautiful future.