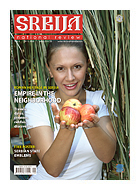 SERBIA - National review no. 9

Prologue

Among the numerous important dates we will remember this autumn, one has the most prominent position. 90 years since the breakthrough of the Salonika Front and liberation of Serbia in World War I. Since that truly horrible and truly magnificent epopee of the Serbian warriors, before which each un-numbed little heart trembles even today. The history of Europe has never had a sacrifice and accomplishment comparable to the Serbian one that took place nine decades ago.
Do we, sinful and unworthy, forget today the price of freedom?
Did we, such as we are, find an answer to the question asked by the poet of fire:
"Will freedom be able to sing as the slaves sang about it?"



ГАЛЕРИЈА




CONTENTS
Prologue
A MEMORY ETERNAL
Breakthrough
PANORAMA
Culture, Manifestations, Actions, "Belgrade of Light", BELEF, "Days of European Heritage", Skate Park, The Avala tower, The Military Museum in Belgrade, "Book of Solidarity" The National Reciew...
THE BEAUTIFUL FACE OF SERBIA
KARLO HAMEDER
EVENT
SPECTACULAR "ROMAN NIGHT" IN VIMINATIUM
Empire in the Neighborhood
Within the "Opera Balcanica" and "Cultural Paths of Roman Emperors" projects, French opera star Emma Shaplin held a concert in the ancient mausoleum. About eight thousand people were present and a large amount of significant donations were collected for continuing explorations at this and other ancient sites. In the country where as much as 17 Roman emperors were born, the future tourism route following their trace will be 600 kilometers long, it will include 100 boarding houses, many extraordinary accompanying events and imply a completely new model in culture and tourism
By: Jelena Jelić Banović
EVENT
45th LJUBIČEVO EQUESTRIAN GAMES
Knights and Their Horses
Continuing the long tradition, these knightly competitions have been held since 1964, at this time of the year, when it breaks between summer and autumn, and attract the European elite of the equestrian sports. The games have now regained their international character and it is believed they will soon be reenlisted into the calendar of the International Equestrian Federation. The winner is awarded with the title Knight of Ljubičevo
By: Igor Davidović
EVENT
AT THE MARGINS OF THE 16TH INTERNATIONAL TOURISM, ECOLOGY, SPORTS AND GASTRONOMY FILM FESTIVAL
Constant Confirmation of the Human in Us
There were some truly excellent movies, as well as some completely meaningless ones. The viewers did not miss to recognize a simple fact that no budget in the world, however high it is, can provide three important things: talent, intelligence and passion. The high value of the films brought by young Serbian authors from Sivac, Vlasotince, Belgrade, Novi Sad and Kragujevac brings joy. All praises, even more, to the organizers
By: Branimir Stanojević
EVENT
INTERNATIONAL CULTURAL MANIFESTATION "SLAVIC BEAUTY" FOR THE SECOND TIME IN BELGRADE
Common Ancestral Values
The aim is to affirm what connects those countries and those nations, what makes them sprouts from the same tree, to point to the extraordinary possibilities of their conjoint market with more than 450 million people similar by origin, tradition and sensibility

TRAVELING
RAILROAD AS TOURIST BRAND OF SERBIA
With train to the heights
On picturesque Mokra gora and "Sargan eight" in train "Nostalgia", only during last year drove with admiration over 70,000 passengers from all over the world. Revitalizing that romantic vintage railroad and with building of Kusturica's Drvengrad on Mecavnik stopped migration and withhold so these beautiful parts won't be deserted. This summer, on Assumption, new railroad was open, and on special trip, with high-ranking members of diplomatic core and numerous VIP guest, was "National Review"
By: Мišo Vujović
ACROSS THE RIVER
FIFTEENTH INTERNATIONAL PAINTERS' GATHERING IN VIŠEGRAD
At the Table on the Bridge
On a thin line between the only lightly healed wounds and still unsettled graves, in the astonishing beauty of nature and beside the fascinating works of old building masters, artists from the whole world, on this green river which is not a border, build bridges again. The city gallery and Orthodox monastery Dobrun are doing everything so this would continue for a long time
By: Ljiljana Dugalić
DESTINATIONS
SOKOBANJA CHRONICLES, FROM BURGH AND HIGHLANDS, YEAR 2008
Balm for everyone
Maker was generous here. Exceptional abundance of nature is complemented with two centuries long tradition of hospitality for the people who were coming from different meridians, during the time when even idea of tourism was non-existing. Many, including one ruler and one metropolitan, contributed the charm of this place but formula of its attraction was never completely revealed by anyone. Formula that is the reason, as it is the case with the reporter of "National Review", for frequent coming back to this place
By: Jovo Bajić
NOSTALGIA
TIMELESS BELGRADE STYLE, BETWEEN CHARMING AND UNEXPLAINABLE
Time is not money
How and with what means live these Belgrade folks, repatriate from happy world ask himself and cannot, alike citizens of Belgrade, find acceptable answer. Never the less, despite poverty, Belgrade restaurants are full and more ones that are new are opening. "Worst for me", says one Belgrade eternal young man, "when my wife say, straighten up that belly, and I already did that"
By: Момо Карor
MILLSTONE
Bread from under the stone
Wheat was not the only thing grinded in there. They were also center of social life and folk creativity. In there, waiting for water and stone to do its job, they were spending nights, dancing, singing. There they were exchanging experience, negotiating business and marriages, rebellions and outlaw. Today, when we can find them predominately in folk stories and romantic remembrance, watermills became attraction for tourists and garnish in authentic ethno surroundings
By: Vladimir Putnik
FREEDOM
90 YEARS AFTER THE BREAK-THROUGH OF THE SALONIKA FRONT AND LIBERATION OF SERBIA IN WORLD WAR I
Heroes, Ahead to Homeland
"To the heroic sons of Serbia, France, Italy, Great Britain and Greece who, faithful to the legacy of their ancestors, fought in these places and fell for freedom and world peace 1916-1918." This is written on the white marble monument in Policastro, Greece, eleven kilometers from the border, where the anniversary of the epopee which decided the outcome of World War I will be marked again this September
By: Bane Velimirović
FREEDOM
BRILLIANT LITERARY TESTIMONY OF STANISLAV KRAKOV ABOUT THE FIRST DAYS OF THE SALONIKA FRONT BREAKTHROUGH IN 1918
The Ultimate Onrush
Officer, writer, journalist, this unusual Serbian patriot was in the first group of soldiers who kissed their land in Gazimestan in October 1912. Fellow soldier of Milan Rakić, the youngest among Duke Vuk's volunteers, hero of World War I, wrote perhaps the best Serbian war novel, from which we bring a short extract
HERITAGE
RECONSTRUCTION AND PRESERVATION OF SERBIAN MONUMENTAL INHERITANCE FROM LIBERATION WARS IS CONTINUING
Pledge of seriousness and self-respect
In forty European, African, Asian, Australian and North American countries there are 508 registered Serbian veteran monuments and war memorials. Only in Austria, Hungary, Czech Republic, Slovakia, Romania 147. In last five years, owing to systematic care of Sector for veteran and disabled protection of Ministry of work and social policy in Serbian Government, 150 such monuments have been renewed in the country and abroad. And that, of course, is not the end.
By: Nenad Despotović
CROWNS
SERBIAN SOIL – HOMELAND OF ROMAN EMPERORS: FLAVIUS SEVERUS (305-307)
Governor of Italy and Africa
At the election of new Caesars in Nicomedia on May 1, 305, he was represented before Diocletian by Emperor Galerius. "He is worthy of the position, for he has ardently led soldiers", he said. "I have sent him to Maximianus to dress him in purple." And it was accepted. Severus later consistently carried out Galerius' politics, with devotedness which did not recede even when the catastrophe became obvious. When he fell into the hands of the enemy in the civil war which was soon to follow, he chose death instead of slavery
By: Professor Aleksandar Jovanović (Ph. D.)
ROAD GUARDIANS
MEDIEVAL FORTIFIED TOWNS: RAS
Border and Capital
Once when, on the very edge, in the slit between empires, from second half of XII until 1233 that town was founding stone and symbol of rise of Nemanjic's Serbia. It was heavily damaged during deposing of King Radoslav, and finally demolished in Great Mongolian Invasion in 1242. Many riddles are left behind it, including its precise whereabouts
By: Vojislav Filipović
FAMOUS LOVES
DESPOT STEFAN LAZAREVIĆ AND JELENA GATILUZZI
And I Want You So Much
He, the son of a sovereign who dedicated himself in Kosovo, the first among the knights of the elite European Order of the Dragon, creator of a glorious renaissance decades older than the western one, poet and statesman, tall, handsome, famous. She, the daughter of the lord of Lesbos, sister of a Byzantine empress, stormy and quiet, closed in her love like in a cell. Why did they remain without offspring, without that arrow thrown into eternity? Were they really destined to be the last ones?
By: Milena Z. Bogavac
LIFE, NOVELS
RIGAS FERAIOS (1757–1798), FAMOUS GREEK REVOLUTIONARY AND POET, ENDED HIS LIFE IN THE WATERS OF THE BELGRADE CONFLUENCE EXACTLY 210 YEARS AGO
Burning Wish for Freedom
Rich and educated, he was only twenty when he was forced to kill some important Turkish figure in his homeland of Thessaly. After outrunning the pursuits, he first went to Olimp, then Mt. Athos, Constantinople, Bucharest, Craiova, Vienna... Inspired with revolutionary ideas and ideas about freedom, he believed in the joint liberation of Balkan Christians from Turkish slavery. He believed and did everything to achieve it. He was arrested by the Austrian police in Trieste and extradited to the Turks in Belgrade. His last words were: "I have planted a rich seed. The moment is coming when my country will reap its glorious fruit"
By: Branislav Matić
FATE AND ITS COMMENTARIES
KATARINA IVANOVIĆ (1811-1882), THE FIRST SERBIAN LADY PAINTER, THE FIRST SERBIAN LADY ACADEMICIAN IN EUROPE, "THE NUN AT THE EASEL"
Between Two Towns
She was raised in Stolni Beograd (Székesfehérvár), in a foreign country and in a foreign language, never learning her own. She soon became an orphan, fighting through life with great dedication and gift, passing through the greatest centers of European art: Budapest, Vienna, Paris, and Munich… She visited the other Beograd (Belgrade), the Serbian capital, of which she dreamt and which she tried to understand, only two times in a life time. All her famous work and everything she had, she gave to the Serbian people. In 1967, eight and a half decades after her death, her remains were moved from Stolni Beograd to the capital of Belgrade
By: Dragana Bukumirović
TREASURIES
PTT MUSEUM IN BELGRADE
A Brief History of Remote Communication
More than ten thousand exhibits testify about the history of post, telegraph and telephone in the territory of Serbia, and about the turbulent changes the whole country went through. Numerous interesting objects and anecdotes make the visit to this Museum a light and picturesque story to remember
By: Nevena Mihajlović
AN EYE
HIDDEN HISTORY OF THE MOST FAMOUS PAINTING IN THE WORLD: MONA LISA IS LEONARDO
Return to the first drop
Painter from Belgrade, Predrag Lukic discovered and proved in 1982 that on the most famous painting on the planet, brilliantly disguised, is in fact painter himself. Imposing Leonardo style, he imposingly showed it on his painting "Portrait of a secret". Painting circulated around the world. Much later, his discovery, without stating the source, was used and commercialized by many others, from the author of "Da Vinci Code" by Dan Brown, to spouses of certain contemporary Serbian writers
By: Dejan Đorić
ETHNO
THE BAND "IZVOR" FROM VRANJE AND THE SPIRIT OF THE REGION WHERE TE MOONLIGHT IS SHINING
Songs of the People
Including young, educated and extremely talented people, "Izvor" is collecting, cherishing and playing music from the Balkans, especially the one from the southern part of central Serbia and from Kosovo and Metohia. Results are more than outstanding
By: Slađana Ristić
JUBILEE
RADIO-TELEVISION OF SERBIA – 50 YEARS OF PRESENCE AND ACTIVITY
First-Class National Institution
The leading media house in the country marked its first half century of presence, also being half a century of television in Serbia. "This Television is national, people's, democratic and civil. It teaches us who we are, it fills a gap in our culture and creates awareness of it. It reaches millions of viewers and the message it sends must be clear, comprehensible and effective", said Nikola Mirkov, director of the Television. The national television will grant a TV set to all babies in Serbia born on August 23


KNOWLEDGE
HIGH TOURIST SCHOOL IN BELGRADE BRIGHTLY CONTINUE UPSCALE
Preparation for real life
If one can say that HTS, founded in 1967, is highly respectable institution, that it, up till now, bosomed 41 generation of experts, that it is among first five schools that got accreditation and that this year there is not second enlisting term because all classes are full- that would mean something to those who are into school system and quality of teaching. If we would mention that students of HTS are in charge of most complicated organizing duties on many festivals, fairs, manifestations – than it has special meaning


HEALTH
PROFESSOR ZORAN KRIVOKAPIĆ (Ph. D.), SURGEON RESPECTED AROUND THE PLANET AND UNIQUE BRAND OF SERBIAN MEDICINE
Renowned in the West, Respected in the East
The case of the Kosovo sufferer Djordje Martinović led the young doctor to London. He learned from the best, and then became one of them. He returned to Serbia and saved many lives, promoting his profession with seven mile steps. In ten years, he has performed more than 1.500 operations of the colon. He introduced and applied 43 new diagnostic and surgical techniques in Serbia, including those for surgical treatment of the colon carcinoma
By: Jagoda Plavšić
LEADERS
WITH STRATEGIC INVESTMENT AND ADVANCE SERBIAN RAILROADS AGAIN GROW TO BE REGIONAL TRANSPORT GIANT
Swing of the great modernization
Talks with European Bank for Reconstruction and Development are on the way in order to secure guarantied loan of 100 million euros for reconstruction of mail railway network in Serbia, including Corridor 10 and Port of Bar, while rest of the money, up to 221 million euros, and that is the value of whole project, should be secured by European Investment Bank

PARAGONS
DRAGAN RADAKOVIĆ, DIRECTOR OF "KOPOVI KOSOVO – OBILIĆ", HONORED WITH THE ORDAIN OF ST. SAVA OF THE FIRST DEGREE
Where It Is Most Difficult
In spite of being left without everything they have been creating for decades and generations, the management and employees of this public enterprise from the southern province never lost their spirit and will in exile, never accepted to become a burden to anyone, including the state. The most valuable thing they have, they carried within themselves. Knowledge, enormous experience, diligence, solidarity, self-abnegation. Message: "Sow with love, and it will grow." That is why they managed to overcome so many temptations, to rise, become strong again, and unselfishly help others

PARTNERS
"BEOGRADSKE ELEKTRANE" SERBIAN AVANT-GARDE IN USING RENEWABLE SOURCES OF ENERGY
Always One Step Ahead
Minister of Health in the Serbian Government Tomica Milosavljević supported the project of using hydro-geo-thermal energy for heating in the Mladenovac "Selters" Spa. Instead of delivering 20 tons of oil fuel thirteen times a year, water with a temperature of 50 degrees Celsius will be used

PRESENTING
VESELIN JOVIĆEVIĆ, DIRECTOR OF "JAT – HOTELI SLAVIJA", IN THE EVE OF PRIVATIZATION AND NEW BUSINESS CHALLENGES
In the Heart of Belgrade
At one of the key squares of the capital, from which seven important roads start and flow into, "Slavija" has "the most hotel-like location in the city". Foreign and local investors obviously noticed it well, since the interest for privatizing this hotel is surpassing all expectations

HOSTING
BELGRADE "ORAO" PIZZERIAS, SYNONYM OF SUPREME CATERING
The Philosophy of a Mobile Restaurant
People from the famous city's chain of Italian and Mediterranean cuisine restaurants do it all, from creative designing of your space in which you wish to host your guests, to delivering everything necessary and serving. Furthermore, the satisfaction of the most fastidious requests in terms of food and drink is certainly implied