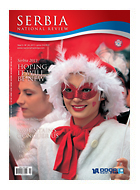 SERBIA - National review no. 24

Prologue
We have slid into 2011 without any passion, somehow more like considering it a duty. The celebrations, greetings, fireworks, the outfits and confetti, all seemed to be there because they are supposed to, not as a reflection of our true feelings. It seems that we have lost our ultimate "useful illusions" in the crags of 2010. Even those who resisted the longest, understood during the course of 2010 what is hiding behind the monumental grimace of the world we are living in, behind its spectacle, over-design and empty sentimentalism (humanitarism).
But, hey, it is not bad at all that the face under the mask provoked our disgust! Disgust and silence! Perhaps that is exactly the first step in 2011, to seek, within us and around us, the true (easily betrayed) values. <
GALLERY


CONTENTS
Prologue
INTO THE YEAR 2011, WITH A YEAR OF DEFEATS AND VICTORIES BEHIND US
Bitter Deposits of Experience
Vitrage
NUMBERS, EVENTS, INTERESTING THINGS
Beautiful Face of Serbia
PHOTOGRAPHY BY PETAR VUJANIĆ
Summits
ON PEŠTER, A PLATEAU FROM WHICH DRAGONS, LAKES AND AIRPORTS HAVE DISAPPEARED
Autumn on Serbian Tibet
Covered with vast pastures, only here and there spotted with a groove, village, parcel of mountain wheat, this area has been since time immemorial well-known for its shepherds, merchants and, in one period, for smugglers. It is also famous for cheese, harsh winters, caves in which great spiritual leaders lead ascetic life. People here have always lived scarcely, in temptation, honestly. When you come here, you feel certain distrust and judgments. Soon, however, all the hospitality that is typical for highlanders will be displayed
Text and photographs: Dragan Bosnić
Event
BREAD AND BAKERY DAYS IN ALEKSINAC
Each Meal Turned into a Ceremony
Bread has a clear ceremonial place in all traditions. It symbolizes fertility, abundance, noble-mindedness. Corresponding to bread are gold, fire, soul, sufferer, gift, transformation, rebirth, unification. In Christianity, bread is sacred. The visible manifestation of the spirit, the mystical body of Christ, mankind's memories about its own heavenly homeland. Christ himself is "the bread of life". "Daily bread" is mentioned in Our Father, the fundamental Christian prayer: the liturgy speaks of the "holy bread of eternal life". Bread is given to an arriving friend; it propitiates and refines forces of nature, reestablishes and tightens the bond with the divine. Bread and salt are signs of friendship, of purity of heart, of alliance. For hot and tasty bread it is said that it's "like the soul". For a kind and noble man, people say: "As good as bread"
Text: Rozana Sazdić and NR Press
Ethno
THE PANTELIĆ FAMILY FROM GORNJE BREZOVICE NEAR KRUPANJ, DOBRIVOJE AND DOBRILA, WITH AN OPUS OF SEVERAL HUNDRED FILMS
To the Memory of Rađevina Villages
Although, as they say, they are primarily farmers, it has been three years that this married couple with their camera is going around Rađevina, Jadar, Azbukovica, Podgorina, snatching from oblivion old time people and dying customs, legends and stories containing important truths about us, unusual destinies of those who left forever and those who stayed forever. They are the only amateurs among the winners of the "Annual Medallion" of Jugoslovenska kinoteka for their contribution to the art of film. And other prizes and awards are numerous
By: Vlada Arsić
Visit
ŽABALJ, AT THE VERY SOUTHEAST OF BAČKA, AND ITS THREE GLORIOUS VILLAGES
Hopes of the Shaykash Ascendants
There are not many of them, but they are very famous: Čurug, Gospodjinci, Djurdjevo. If you visit them, you will see the windmill, beautiful old churches, valuable iconostases, unusual bells, collections of silver jewelry from the ancient times… Equally interesting are the Čurug wine, fruit brandy, penny sweets, honey, cheese, cultural and tourism events. Professor Branko Stajić, Municipality president, introduces us to the ambitious development strategy, creation of a big industrial zone, ways to employ the people living here and improve their living standard
By: Goran Budimir
Heights
DRAGAN JAĆIMOVIĆ, THE BEST SERBIAN ALPINIST, EXCLUSIVELY FOR "NATIONAL REVIEW"
Mountains Conquer Us
He has been an alpinist since 1989. In 2000, on May 26, he became the first Serb to climb Mount Everest, the highest peak in the world. In July 2004, he led the biggest expedition to Elbrus (34 alpinists). From the nine alpinists he led in 2007, seven of them climbed Mount Everest. He led expeditions to Mont Blanc, Aconcagua, the peaks of the Himalayas Cho Oyu, Ama Dablam, Island Peak, Lobuje East, Manaslu. He realized a long time ago that it was not him who conquered the mountains, it was the other way round. And that the path towards a mountain peak is actually an inner path towards one's own virtue and wisdom
By: Dejan Bulajić
Photo: Dragan Jaćimović's archive
Centers
"NATIONAL REVIEW" AT THE OPENING OF TOURIST SEASON AT BULGARIAN WINTER RESORT BANSKO
Winter Capital of the Balkans 2010/11
Only a few years ago, the budget of this mountain town on the northeastern slopes of the Pirin Mountains was two million euros, and today it amounts to 34. Only ten kilometers away from the city there are 17 excellent ski tracks, with total length of 70 kilometers, which can be reached by a modern cable car in less than 20 minutes. Over 150 hotels, including the luxurious ones, have been built in a small area. Therefore, we are not surprised by the title "The Winter Capital of the Balkans" and a large number of renowned guests from around the world
Text and photographs: Mišo Vujović
Road Guardians
SERBIAN MEDIEVAL FORTIFIED CITIES: KRUŠEVAC
The Capital of Knez Lazar
Built in only six years, in a hurry, immediately after the death of Emperor Uroš and under ominous shadows of the expected Purplish attack, this city on the confluence of the Rasina and Western Morava rivers used to cover an area of five hectares. It was the capital city until the Battle of Kosovo in 1389. Afterwards, princess Milica and Stefan Lazarević ruled in this city, but then in a vassal position. And it was Stefan Lazarević, Lazar's son, who, in 1403, moved the capital of the Despotate from Kruševac to Belgrade
By: Vojislav Filipović
Life, novels
ENIGMATIC LADY FROM DUBROVNIK, CVIJETA ZUZORIĆ (1552-1648), A POETESS, PAINTER, BENEFACTOR, MUSE
Beautiful flower from Illyria
Her ancestors, originally from the Neretva, lived and worked in Smederevo, on Rudnik, in Novi Pazar, Constantinople. They sailed many seas and earned many fortunes. She grew up in Ancona, gained Rennaissance education and sensibility. All this topped with enchanting beauty, she married to a Florence nobleman Bartolomeo Pescioni and spent her last thirteen years in Dubrovnik again. A few centuries later, this beautiful lady, or the story about her, seduced even the witty cynic Branislav Nušić. It was he who, in 1927, encouraged people from Belgrade to establish the Friends of the Arts Society and the Exhibition Salon under her name
By: Dragana Bukumirović
Holy People
SAINT JOHN OF SHANGHAI, BELGRADE STUDENT, PROTECTOR OF JOURNALISTS
The Endless Chronicle of Miracles
He is one of the greatest Orthodox saints of the XX century. After escaping the revolutionary terror in 1917 as a Russian nobleman, he studied at the Seminary in the Serbian capital and made his living by working as a newspaper delivery boy. He entered the monastic order in 1926, in Miljko's Monastery on the Morava river, and was ordained as bishop in 1934 in Belgrade. "If you wish to see a living saint, go to Bitola, to father John", Nikolaj Velimirović, the then Bishop of Ohrid, used to say about him
By: Branislav Matić
Worlds
GREAT SERBIAN PAINTER KOSTA HAKMAN (1899-1961) AND HIS LIVES
Stepping Out of the Shadow of History
He indeed had many lives, "a hundred and more". From his hometown of Bosanska Krupa, over Tuzla and Sarajevo, he arrived to Prague. He then continued his studies in Vienna, Cracow, and over Italy and Belgrade reached Paris. Then again came back to Belgrade. He spent World War II in a prisoners of war camp. From 1953, he was again teaching at the Academy of Fine Arts in the Serbian capital. Unlike other professors, he immediately recognized the value of the then young Ljuba Popović, Uroš Tošković and Milić of Mačva. And his own great painting skill was only a lot later recognized again and in the right manner
By: Dejan Djorić
Treasuries
GALLERY OF FRESCOES IN BELGRADE, A UNIQUE CULTURAL INSTITUTION IN SERBIA AND ONE OF THE FEW OF THIS KIND IN THE WORLD
House of Sacred Images
For the exhibition organized in "Sajo" Palace in Paris, in 1950, a series of copies of Serbian medieval frescoes and moulds of monumental sculptures was made. After the exhibition, when the artwork was returned to the country, adequate storage space had to be found. That is how a dedicated building was erected in Cara Uroša Street and in 1953 the exhibition opened there. As of 1973, the Gallery of Frescoes is a part of the National Museum. Between 1970 and 1999, it housed the most intensive exhibition activities. It withstood everything, even an eviction attempt, or an attempt to shut it down, that happened in the new millennium
By: Jovan Vučković
Photographs: Dragan Bosnić
Library
ANCIENT BOOKS: 118 YEARS AND 680 TITLES OF THE RENOWNED "KOLO" OF SRPSKA KNJIŽEVNA ZADRUGA
A Title Deed that We Were Not Born Yesterday
Those blue books, as if engraved in stone, were the celebration of Serbian language, pure gold of written letter, treasury, a standard. And in our regions that were officially not a part of this country, Serbia was in the homes of all of them through these books. Small endowments were creating bigger ones, every work gave birth to other work. "Kolo" was the pride, it raised value of its readers, influenced so many Serbian destinies. And that wall with books is not a house wall, but a passage to Troy, Nazareth, Zmijanje, Vranje, Medun, Brankovina...
By: Dragan Lakićević
A Journey Through Time
EXHIBITION THAT PEOPLE TALK ABOUT: BELGRADE STREET FASHION IN THE 19th CENTURY
Lessons from Ancient Elegance
All that touching attention with which the parents used to dress their children more than one century ago, the fashion of young people and elderly gentlemen, royal family and lower classes, fashion among priests, politicians, officers, clerks, musicians and bohemians, are disclosed before the surprised and curious eye of contemporary audience. In front of all these bodices and "fistans", laces and cuffs, brooches, tiaras, rings, fans and Venetian scarves, just like before redengotes, cylinders and polished shoes, ties and cloaks – numerous prejudices of contemporary world, dragged down to shallowness, mass an uniformity, are wiped out
By: Vladana Putnik
City Tales
OLD NOVI SAD: THE BOHEMIAN MYTHOLOGY OF SERBIAN ATHENS
A Bit of Cheerfulness the Good Guests Had
Kafanas, like cities, are mainly made of people. Everything is as the people are. And in once famous kafanas of Novi Sad ("Jelisaveta", "Kamila", "Lipa", "Bela ladja", "Tri krune"...) the first plays of the Serbian National Theater were played, Djura Jakšić, Laza Kostić, Svetozar Miletić, Lazar Dundjerski, Šafarik, Novak Radonić... met there, associated and partied. Vojislav Ilić got married in a kafana, but spent the first marriage night in jail. Zmaj also occasionally returned to those with whom he "shared his fate under the table"...
By: Zorica Todorović Mirković
Photo: Archive of Zoran Knežev
Holidays
HOW CHRISTMAS AND NEW YEAR WERE CELEBRATED IN THE PAST
Hoping It Will New
Holidays have a deep meaning and great importance in any community and its system of values. For example, until 1918, January 1 was an ordinary working day, and Christmas and Easter were celebrated as public holidays. The mythologemes about the "craziest night" arrived here only after World War II, encouraging almost hysterical consumption, with merchants and rule of commercials taking over the baton. Old newspaper chronicles remind us that, ever since the earliest times, in peace and war, in freedom and under occupation, in poverty and abundance, under different ideologies and regimes, loudly or secretly, these holidays were a nice opportunity for us to step out of the chaotic rush and dedicate ourselves to those we love most. The same is this time. In spite of everything
By: Jovan Gajić
Virtue and Skill
FENCING – A MARTIAL ART, SPORT, ART, CHALLENGE
A Master Learns His Whole Life
European fencing reached its peak between the 15th and 19th century. Just like horse riding, playing chess, playing pool or hunting, it was then regarded as a cultural, intellectual, physical and aristocratic skill. Just like everything else, this tradition in Serbia abruptly came to an end, after the fall of the Despotate and Turkish occupation. Only in the late 19th century, Charles Doucet, a Belgian who came to teach at the Military Academy in Belgrade, brings back to Serbia the European fencing tradition. What about today?
By: Radmila Tamindžić
Leaders
DEJAN STANOJEVIĆ, MD, DIRECTOR OF "MERKUR" SPECIAL HOSPITAL IN VRNJAČKA SPA, OFFICIAL TOURISM CHAMPION IN THE REGION
Ready for a Strategic Partner
"High European standards were achieved in terms of professionalism, technology, therapeutic and prevention programs. Traditional spa treatment and balneotherapy were merged with modern wellness and aqua facilities. The border between treatment and enjoyment was canceled. For further development, it is necessary to look up to the experiences of European spas, e.g. Hungarian and Slovenian, where first a hospital is developed, and then in concentric circles around it wellness and spa centers, large and mini hotels. The most important thing is to continue the development programs, regardless of who will be the owner of the assets. There is no reason to fear, a strategic partner cannot take away our national treasure: water springs, parks…"
By: Jagoda Plavšić
Benefactors
THIS YEAR AGAIN, HUMANITARIAN EVENT "SEND A GREETING CARD OF FRIENDSHIP" PREPARED BY ORGANIZATION "OUR SERBIA"
Joy for Children, Hope for the Homeland
The series of Christmas and New Year's greeting cards show paintings made by children from all Serbian areas. By purchasing and sending these holiday greetings, people directly help the project of assistance for people and schools in undeveloped municipalities of Serbia, and contributions for the prevention of dying out of villages. In the past years, assistance was provided for 180 schools and outposts in the most endangered areas. Actions, and not just empty words
Insurance
DDOR – FOR THE HEALTHIER PEOPLE OF NOVI SAD
Open fitness center
Like major cities worldwide, the city of Novi Sad now also has its first open fitness center for adults. Thanks to the donation of "DDOR Novi Sad", the people of Novi Sad have a new sports facility on the Sunny Quay on the banks of the Danube; a place for all followers of healthy living and exercising in the fresh air
Lighting
OLD POWER STATION IN DORĆOL, BUILT IN 1893
Belgrade Under Electricity
In the young Serbian Kingdom economic development and social life were gaining momentum. The first telephone lines were introduced, railway station and bridge over the Sava River were built, trains were running to Niš. The city water supply system was commissioned in the capital, more and more streets were covered by cobble stone, European fashion became dominant. Population was about 56,000, and there were 317 taverns. And then, on October 6th, 1893, a year after the city was visited for the first and last time by Nikola Tesla, the electric power station was commissioned and Belgrade became one of the first European capitals with electric street lighting
By: Zoran Plavšić
Power
HYDRO POWER PLANTS "ĐERDAP", THE LARGEST ONES ON THE DANUBE AND THE BIGGEST PRODUCER OF POWER IN SOUTHEAST EUROPE
The Year of Record and New Growth
In addition to two hydro power plants "Đerdap", four hydro power plants in Vlasina and HE "Pirot" also operate within this company, says for "National Review" engineer Dragan Stanković, Director of this system. Thanks to high capacity and favorable hydrological situation, the annual production plan of almost seven billion kilowatt-hours was exceeded in early December, and we have also made a series of records. Planned revitalization of hydro power plants, large and demanding phase work, will significantly increase their power and extend their useful life by 30 years
By: Aleksa Mitić
Photographs: Dragan Bosnić
Introduction
INSTITUTE "JAROSLAV ČERNI", BELGRADE
The Pillar of Serbian Water Management
They have participated in designing and construction of the most significant hydro-energy and water management facilities in the territory of South Slavs. They have solved the most complex problems in designing, constructing and exploiting dams and hydroelectric power plants. They have built water supply projects practically for all major cities in Serbia, as well as projects for irrigation, protection of water and protection from water. They have designed a series of ports and harbors on the Danube, Sava and the Adriatic Coast. They have developed advanced control hydro-information systems that are used throughout Serbia. They have realized capital projects in the countries of Africa, Middle and Far East, Latin and South America and Europe
Hosting
THE FAMOUS BELGRADE KAFANA, ORNAMENT OF VOŽDOVAC FOR 75 YEARS
The Hammersmith of Our Pleasures
The oldest preserved memory of this kafana is from 1936, when the old Avala Road used to pass beside it. The today's crème of Belgrade journalism from the nearby Faculty of Political Sciences developed an important element of its craft and its poetics here. Now it is an ethno restaurant with a very creative gastronomic concept based on (mainly) old Serbian cuisine, with a wine store the best European restaurants would be proud of, with old and gypsy music that provokes gentleness and nostalgia