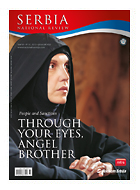 SERBIA - National review, No 37
gue
Prologue
It seems that in this pseudo-political debate on Kosovo people increasingly often forget what they are really talking about. That is why the "Album", in this edition of National Review, guides us through the eye of the camera to Serbian sanctuaries in Kosovo and Metohija. We talked to Mother Efimija, an unusual painter and prioress of Gradac Monastery, as well as with writer Vladimir Pištalo. We flew around the world with Serbian paragliding pilots. We sent to the history and to the future the tavern "At the end of the world" in Kovilj marsh. We explored Balkan prehistoric beginnings of the world metallurgy. We discussed the advantages of building Serbian "climate houses"... Not at all by accident. You will see why. <


GALLERY

CONTENTS
Prologue
SO AS NOT TO FORGET WHAT WE'VE BEEN TALKING ABOUT
With Our Heads in a Canvas Bag
Vitrage
NUMBERS, EVENTS, INTERESTING THINGS
Album
GOING THROUGH SANCTITIES AND MEMORIES
Through Your Eyes, Angel Brother
Heights
SERBIAN PARAGLIDING, DESPITE EVERYTHING, MARKS WORLDWIDE SUCCESS
Brave People Crowned by the Sky
Although Serbia has only twenty three clubs and three hundred paragliding pilots (in France, for example, there are tens of thousands of them), their results have surpassed many economically wealthier countries and bigger nations. Flying is a great challenge and a gift, conquest of freedom and beauty, an experience that changes you forever. And up there, when literally reach the clouds, it becomes clear why the birds sing
By: Bojana Damjanović
Photographs: Archive of the Aero Club of Serbia
Mysteries
THE BELGRADE MUMMY, HUNDRED AND TWENTY-FIVE YEARS LATER
Earthly Remains of Priest Nesmin
He was about fifty years old, 165 centimeters tall. His mother played music in the temple and he, like his father, was a priest. Mummified, he rested in Akmin, a necropolis 200 kilometers south of Cairo. Hadzi Pavle Riđički bought his earthly remains in Luxor in 1888, and shipped them to Belgrade over the Nile, Mediterranean, Black Sea and the Danube. Today he is part of the archeological collection of the Faculty of Philosophy and can be seen every weekend from 12 to 8 p.m.
By: Vlada Arsić
Photo: Dragan Bosnić
Farewell
LAST DAY IN THE CSARDA "AT THE END OF THE WORLD"
There's No End, just Moving
It stood there for more than half a century, at the Danube branch, at the edge of the Kovilj marsh. It was an important point of the local mythology of Belgrade and Novi Sad, gathering place of poets and bohemians, lovers of the river and the plain. Then, all of a sudden, the owner of the land decided to cancel the Csarda this May. The "Golden Apple" TV show gathered us to tell the most important story about this place. If they close it here, we'll move the end of the world to a different place. But the Csarda will survive everything, even us, such as we are
By: Goran Budimir
Guide
A SHORT WALK AROUND THE CORE OF ZRENJANIN
Modern Baroque Gentleman
This nobility is neither old nor young, but timeless. Eleven bridges, nine churches, old mansions with restored facades, large pedestrian area, living water, allegorical stained glass windows, one clock with four distant dials, and much more, make this city simply beautiful
Chronicles
VRNJAČKA BANJA, MEETING PLACE FOR WRITERS AND THE HERO OF LITERARY CHRONICLES
Let It Happen Again
As befits a noble town and its beneficial spa resort, this has always been a meeting place for writers and painters, poets and musicians. Many of them eternalized Vrnjačka Banja in their poems and songs, wrote their important work in it, or placed the plots of their stories novels and films in it. It has been recorded in history accounts of the town, from which we will quote a few things on this occasion
By: Miloš Vojinović
Invitation
THE MUSEUM OF SREM IN SREMSKA MITROVICA OFFERS A RANGE OF ATTRACTIVE PROGRAMS
Treasury of Numerous Eras
Permanent historical exhibition "Srem through Centuries", and the archaeological exhibition with a lapidarium. Famous Avar belt, Roman coins and a sundial with an image of Atlas, Hercules and Iphicles. The exhibition "Equipment of the Legionnaires and Auxiliary Troops". Books "The Beginnings of Christianity in Srem" and "Money – the Witness of the History of Srem"... There are many reasons, old and new, da to visit Sremska Mitrovica this year
By: Danica Dragičević Đukić
Explorations
ARCHAEOMETALLURGY CENTER NEAR PRIBOJ, ON THE LIM
Memory of Copper in Jarmovac
Native copper mines, where the early metallurgy was being formed, are rare. There are only three of them in the Balkans, and one of them is on the periphery of Novi Priboj, near the Jarmovac Creek. In October, people there continue to work on the large international scientific project, coordinated by the Institute of Archaeology of the University in London
By: Savo Derikonjić
Discoveries
IMPORTANT ARCHAEOLOGICAL FINDINGS IN DRENOVAC NEAR PARAĆIN
Neolithic Megalopolis in the Morava River District
Two settlements, separated in time and space, have been found. The older one, from the early Neolith, belonged to the Starčevo culture, and little is known about it to date. The second one, belonging to Vinča culture of the early Neolith, about four kilometers from the Big Morava River, lasted for 1,000 years and about 30 generations lived in it. Now, an international multidisciplinary exploration centre is being formed there, the building block for the several decades long scientific work that is to come
NR Pres
Photographs: Archaeological Institute in Belgrade
Endeavor
BOŽIDAR NIKOLIĆ, EDITOR OF THE RTS DOCUMENTARY "313"
Down the Roads of Religious History
With this important project, the national television joined the celebration of 1700 years of the famous Edict of Milan, making Christianity a free religion in the Roman Empire. The series' fourteen episodes follow the history of Christianity from its beginnings to the IX century. It is rich with exclusive shots from many important points of Christian sacral geography and more than fifty experts and priests from nine countries participated in it
By: Bane Velimirović
Origins
THE NEMANJIĆ-BOGUNOVIĆ CLAN IN DUBROVNIK AND THEIR EXPANSION IN THE SERBIAN LANDS
From the Entourage of Emperor Dušan
Lovric (Lavrentije), son of Bogun Nemanjić from Lever Tara, came to Dubrovnik in November 1350, as member of the entourage of the powerful Serbian emperor. There he married Draža and had sons Bogoje and Andruška. Their descendants stayed in Dubrovnik more than two centuries and expanded to different sides, from Kosovo to Šibenik
By: Božidar Kljajević
Life, Novels
MOTHER EFIMIJA, PRIORESS OF GRADAC MONASTERY, FROM LIFE IN ART TO LIFE IN CHRIST
Strange Are the Ways of God
A modern Belgrade girl, who grew up with the music of "Zeppelin" and "Stones". Excellent student of the Academy of Arts, rising star in painting. Favorite. However, she continuously "felt within an unexplainable deep sorrow, need for fullness and longing for something bigger than the material. She saw herself at the end of the world, gazing at the horizon, the sky, eternity. She sought. And God never imposes Himself…" The decision wasn't easy. Today she knows that "she found herself in something much deeper than anything she could have imagined"
By: Viktor Dražen
Photo: Svetlana Dingarac
More than a Game
SERBIAN WRITER VLADIMIR PIŠTALO, EXCLUSIVELY FOR "NATIONAL REVIEW"
Only Love Makes Us Real
He considers metaphor a tool the Creator deliberately forgot in the world. The eternity of our lives is in details. As in fairytales, we should recognize ourselves among the masks of others. We must fight to regain the values of our culture, placed on banknotes with numerous zeroes by minters of false money. He was writing a novel about Tesla for eight years, now he's writing a "Book on Andrić", and after that he wants to start writing about Vladan Desnica
By: Vesna Kapor
Photo: Writer's archive
Strategy
HOSE FILIPE TORRES, HEAD OF "BLOOM CONSULTING", SPECIALIST FOR COUNTRY BRANDING
Never Make Promises You Cannot Keep
"You have to be aware that you're on the European market, which has a very well developed tourism offer. You have made the first steps, but there is still a lot to do, especially in terms of infrastructure. And you have to be careful in communication. You shouldn't promise more than you really have. It's much better to attract fewer tourists, but those who know what to expect and who'll have a nice experience here, than bring many people who will be disappointed with something"
By: Dragica Novaković
Home
MINISTRY OF CONSTRUCTION AND URBANISM INITIATES THE TRADITIONAL ARCHITECTURAL HERITAGE PROJECT
Identified with Serbia
For the first time the state shows its serious about such a project. It was supported by UNESCO, Serbian Academy of Science and Arts, several professional associations… It will enable free of charge modern objects plans made in the manner of Serbian traditional architecture, as well as financing social housing programs, along with applying high technological standards and energy efficiency principles. The Serbian traditional house is entering strategic documents, special and urbanism plans, guidelines for designing and construction. Why is it important?
By: Damjana Glušac and NR Press
Lighthouses
CENTER FOR MUSIC AT KOLARAC FOUNDATION IN BELGRADE
Oasis of High Cultural Values
There is no audience crisis, they say at "Kolarac". Where once was the position of the state and the media, a horrifying emptiness is now felt. For this reason, the horror of kitch and poor taste has been spreading so fast, as a directed plague. At "Kolarac", they fight this with purity and enthusiasm, talent and creativity Almost 80 percent of the program is still free. Most visiting masters who perform classical music around the world are impressed by the fact that young people are dominant in Belgrade audience, which is not the case with other metropolises
By: Radmila Tamindžić
Photographs: "Kolarac"
Health
PROFESSOR Dr ĐORĐE RADAK, VASCULAR SURGEON
No Amnesty for a Surgeon
Taking responsibility is the essence of surgery. Every decision a surgeon makes can be fatal. Decision on someone's health and life. Everything in surgery is simple; if it is not, it means that it has not been planned well. Only when you envisage everything and prepare everything, you can say: "Let the angels guide your hand". Although Serbian hospitals are not sufficiently equipped technologically, there is no method in vascular surgery in the world that is not performed here
By: Jagoda Plavšić
Photographs: Dragan Bosnić
Cooperation
BELGRADE BUSINESS SCHOOL IN THE NETWORK OF THE UNITED NATIONS GLOBAL COMPACT
Ten Universal Principles
The United Nations Global Compact (UNGD) connects business entities, state authorities, civil sector and agencies of world organization. It is a framework for exchange of knowledge and improvement of business practice, with continuous strengthening of the ten principles from the area of protection of human and labor rights, environment and struggle against corruption. Serbian part of the network is among the most successful ones. Mile Samardžić, PhD, professor at the BBS-CVS is at the head of the Working Group for education and development of corporate social responsibility
Knowledge
PROFESSOR MILAN MILOSAVLJEVIĆ, PhD, DIRECTOR OF THE DEPARTMENT OF FOREIGN STUDIES OF "SINGIDUNUM" UNIVERSITY
To Keep and Motivate the Best
In a search for scientific answers one needs creativity. And a kind of passion, emotional coloring of problems. Only in this way it is possible to achieve good results, move something and apply what has been discovered. We must differentiate between what is and what is not important and keep the best to stay and build their careers here. Have you heard about the recently published data that export of Serbian software exceeds our export of raspberries?!
Text and photographs: Rozana Sazdić
Introducing
"TELEKOM SRBIJA", THE LEADER IN CORPORATE SOCIAL RESPONSIBILITY
Connected with You
Virtual Museum of Mihailo Pupin. Great contribution to the construction of the St. Sava Temple in the capital. Digitalization of priceless treasuries of Hilandar Monastery. Support to Serbian children and schools in the southern province. "Adventure of Cultures", multimedia guide for young people of Belgrade. Financing of the "Museum Night" Fest and several regional cultural events... These are only some of the contributions of this model company, in accordance with the values of its brand and business philosophy
Energy
MINING BASIN "KOLUBARA" KEEPS UP WITH STRATEGIC PLANS OF SERBIAN ENERGY INDUSTRY
The Years of Biggest Investments
"The Green Project", worth 181 million Euros, will ensure stable supply and rational management of coal, with reduced pollution of the atmosphere and increased efficiency in thermal power plants. The savings will amount to 26 million Euros and a million tons of coal per year