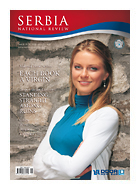 SERBIA - National review no. 16

Prologue

"Those were different youths, different childhoods!" you say with a sigh watching the picture. "There used to be a true adventure of reading. These kids today, hm, they know nothing! They have so many requisites and toys, yet they don't even know how to play! They just hammer the keyboards, waste their time on Facebook, their language is reduced to about thirty deformed expressions! Terrible!"
You have forgotten, of course, that almost the same words were spoken to you and about you by your fathers and grandfathers, just like today's children will preach, with a worried look on their face and theatrically clearing their throats, to their children and grandchildren. Convinced that there is no end of reading and that only forms and technologies of presenting text can change, the new National Review is here, before us.

GALLERY

CONTENTS
Prologue
NATURALLY, THERE IS NO END OF BOOKS
The Adventure of Reading
Vitrage
BOOK, GATHERINGS, ANNIVERSARIES, PROJECTS
Serbia's Pretty Face
PHOTOGRAPHS BY ZORAN VLAŠKOVIĆ
Belvederes
MILORAD PAVIĆ, ACADEMICIAN, THE MOST TRANSLATED SERBIAN WRITER AND LITERARY MEGASTAR, EXCLUSIVELY FOR "NATIONAL REVIEW"
Each Book a Virgin
Along with Borges and Eco, he is considered one of the most attractive writers of our time. He taught millions of readers all over the world to choose their own way through the book, not necessarily from the beginning towards the end, and each reader to create his or her own version, a unique specimen. He involved them in a creative game where no one is innocent anymore, neither the writer, nor the reader. He says he feels like a writer of the first and not the XXI century. He despises amateurism, he does not care about the fate of books, nor is he afraid because of books not read to the end. "A book not read to the end is like life without death."
By: Mila Milosavljević
My Serbia
ANCIENT QUARTERS OF SEBRIAN TOWNS: SKADARLIJA
The Bohemian History of Belgrade
"They sat here until dawn, the lived here, they created, they made jokes and they cried… such great people as Bora Stanković, Jovan Jovanović Zmaj, Janko Veselinović, Milovan Glišić, Simo Matavulj, Radoje Domanović, Vojislav Ilić, Ivo Ćipiko, Veljko Petrović, Stanislav Vinaver, Branislav Nušić, Stevan Sremac… This is where Đura Jakšić wrote 'Fight, My Brothers' ('Padajte, braćo') and 'Stanoje Glavaš', where Rade Drainac collected money for 'Hipnos' (a magazine) and until morning he would lose it all, where Ilija Stanojević, Vela Nigrinova, Dobrica Milutinović, Žanka Stokić worked on their theatre parts, where Tin Ujević, Gustav Krklec, Sibe Miličić all became true Belgrade men…"
By: Bane Velimirović
Gifts
AN UNUSUAL PLACE AT THE BOTTOM OF A DRIED UP SEA
The Beauties of the Pearl Island
In this great area between Stara and Živa Tisa near Novi Bečej, on a big sandbank between worlds, given as a dowry and then gambled away, everything had its positive transformation, and especially one sort of grapes called "Muscat Crocant". Gideon Rohonczi made this place famous all the way from London, Norway to Russia, and his descendants are about to get back their land and their fame, as well
By: Helena Duković
Road sign
PEĆINCI, FROM BARE EXISTENCE TO THE SYNONYM OF PROGRESS
A Place of Prosperity
Located in an agricultural region, Pećinci used to be the least developed community of the Srem District, and in 2000 it had a single factory burdened with problems. Today this Srem community boasts of over thirty factories originating from ten countries, and has the highest rate of new greenfield investments per capita in Serbia. It was also awarded the "Kapetan Miša Anastasijević" prize as the best local self-management community in the country in 2008.  This resulted in a much higher budgetary income, allowing strategic investments in infrastructure, communications, people and a general increase of quality of life. Simple, isn't it?  
By: Nenad Despotović
Pilgrimage
MEDIEVAL MONASTERY OF DRAGOVIĆ, REGION OF KNIN
Shrine Rising from the Water
It was originally built in 1395, on a river with the same name, as an important spiritual center of the Serbs in Northern Dalmatia. Later it was destroyed many times, moved, taken from the water, from thickets and evil people. After the blocking of the river Cetina near Vrlika in the early 1950s and the flooding of the valley called Little Šumadija, a new monastery was built on a hill by the new lake. The old one, however, remained underwater, straight, and waiting
Text and photo: Dragan Bosnić
Benefactors
"OUR SERBIA" CONTINUES ITS HUMANITARIAN MISSION
Ours Is What We Give
Founded in 2000 for supporting children who lost their parents in the ruins of Yugoslavia, this local nongovernment organization helped many children from Serbia and Republic of Srpska with its programs. Special support is given to children from the Serbian enclaves in Kosovo and Metohija. Along with tolerance, the children are also taught about the importance of preserving national identity, language, culture
Event
SILAFEST, THE INTERNATIONAL FESTIVAL OF TOURIST AND ECOLOGY FILMS IN VELIKO GRADIŠTE
Of Care and Beauty
We have had great film artists and super-talented young authors from twenty-one countries. The "Grand Prix" for the best movie, as well as the "Golden Wave" Award in the category of tourist film, were given to the Spanish director Hervé Tirmarche for his "Segovia Tourism: Everything for All". The best ecology film is "Water = Life", of the Serbian director Srđan Đuranović. A rich program and many important steps forward in the promotion of Serbia
Skill
THE LAST CANDY SHOP RESISTING TIME AND PERISHABLE FASHIONS
New relishes of old recipe
Down, near the end of Savska padina, near Manako's house, in the shop that is there since 1936, authentic recipe, tools and old ambience are preserve. So many things changed, époques, ideologies, regimes, even five states, and Belgrade citizens are still fond of ratluk with rose, dried prone, vanilla, pistachio, wild orange skin, honey and silk candies, milk caramel candies. When you visit someone in foreign land, they often ask of you to bring some of that stuff
By: Jovo Bajić
Departure
PROFESSOR DR ALEKSANDAR JOVANOVIĆ (1947–2009), GREAT SCIENTIST, INVALUABLE ASSOCIATE, BELOVED TEACHER
Poet of Bygone Times
Poeta temporis acti. Precisely so. The man who told scientific stories and in his mind lived in the ancient worlds he wrote about. His life achievement was a major study "Territory of Serbia, Homeland of Roman Emperors" ("Princip Pres", 2006). He contributed to "Nacionalna revija" since its first issue and continues to do so even after his departure. In addition to archeology that he tought, he was a student of history and theology and was highlz knowledgeable in numismatics, ethnology, and epigraphy. His premature departure is a great loss to us all. But, as ancient Latins used to say, he who builds a memorial to himself does not die
By: Vojislav Filipović
Crowns
TERRITORY OF SERBIA, HOMELAND OF ROMAN EMPERORS: GRATIAN (367-383)
A Brief Dream of a Golden Age
Very soon, in 367, Gratian was introduced to power by his father Valentinian and was given the title of Augustus. The army accepted the new emperor with delight and approvals. Successful in all important areas of life, he made the Roman elite dream again of the "golden age". His administration was efficient, he was careful in choosing his associates, passed laws "in acordance with God's laws", and had success on the battleground as well. Then came an unexpected turn of events that is difficult to explain – sinking into banality and death. It ended in an ambush which it might be thought was staged by himself
By: Professor Aleksandar Jovanović (Ph. D.)
Road Watchers
SERBIAN MEDIEVAL FORTRESSES: STALAĆ
First Line of Defence of Lazar's Capital
Built as the first line of defence of Kruševac immediately after the battle on the river Marica in 1371, and in anticipation of an imminent Turkish attack, this town-fortress was used for control of the most important roads in the central part of the Balkans, especially those leading from Danube to the Aegean Sea and Constantinople. It is mentioned in the charters of Prince Lazar, Princess Milica, and Prince/Despot Stefan, in the book of travels by Bertrandon de la Broquière, but it was the Serbian epic folk poem "Duke Prijezda's Death" that gained it prominence
By: Vojislav Filipović
Famous Loves
KING ALEXANDER I KARADJORDJEVIĆ (1888-1934) AND QUEEN MARIA (1900-1961)
There Was a Miracle, There Was an End
After rejecting several marriage offers, the beautiful and super-educated Romanian princess immediately accepted to give her hand to the tragic uniter of the Southern Slavs. She could not know then that she would become one of the most favorite Serbian queens, or that less than a decade later she would become a widow, after her husband's assassination in Marseille. All sources indicate that she loved her husband sincerely and deeply. She gave birth to Petar, Tomislav and Andrej. She died on June 22, 1961 in London
By: Milena Z. Bogavac
Lighthouses
LESSONS AND PARALLELS: STEFAN LAZAREVIĆ (1377-1427), MONARCH, KNIGHT, POET, EDUCATOR
Standing Straight among Ruins
In Serbian history as we know it, there has never been a more difficult time than his, nor a deeper abyss. However, this fascinating man knew how to "teach darkness to shine", how to raise the country and the people again to the peaks without selling the soul to the devil, how to be the first among true Europeans and remain a Serb worthy of his ancestors and descendants; how to turn the horrible injustice and humiliation made to his people into an own driving force. Nikola Moravčević, PhD, writer and respectable professor at the Illinois State University in Chicago, USA, in his text written exclusively for National Review, reveals why he has dedicated his novel "Knight in the Times of Evil" to this character from Serbian history
By: Professor Nikola Moravčević (Ph. Dr.)
Friends
PROFESSOR VALERY ALEXEEV, PRESIDENT OF THE INTERNATIONAL FOUNDATION FOR THE UNITY OF ORTHODOX CHRISTIANS, EXCLUSIVELY FOR NATIONAL REVIEW
Spiritual Causes of the Global Crisis
"The problems we face surpass by far the financial borders; therefore solutions should be such too. Despite numerous designed smiles and theatrical demonstrations of familiarity, there is no more trust in the world, proven by the quadruple increase of military budgets during the previous ten years. Russia has a great responsibility in the newly created situation. I first of all wish the Serbs courage and more unanimity in crucial national issues. You will need it"
By: Branislav Matić
Peaks
IN RESPECT TO THE EXTRAORDINARY DOCUMENTARY "MILAN KAŠANIN, CONSERVATIVE REVOLUTIONARY" BROADCASTED ON RTS
Familiar Voice from Great Distances
With his exquisite education and refinement, organic merge of the supreme Serbian and the supreme European, self-esteem and self-confidence, the strength to endure heavy injustice and defamation without complaining, without losing his way and without betraying his idea – this great man of culture represents a role model we today need more than ever before. The author and director of the series writes exclusively for National Review about some aspects of Milan Kašanin's (1895-1981) personality and work
By: Dragan Ćirjanić
Library
ANCIENT BOOKS: MATICA SRPSKA ANNALS, 185 YEARS OF EXISTENCE
The Candle of Serbian Culture
Magazine-monument, magazine-treasury. The seal of literacy and education, created in Buda as early as 1825. Many honorable and great people have presented themselves between those covers; many things are stored or initiated there, many generations brought up in the spirit of "noble patriotism"! And the subscribers since the first issue have been from Arad, Baja, Vienna, Buda, Bečej, Bjelovar, Vinkovci, Dubrovnik, Zemun, Karlovci, Nova Gradiška, Novi Sad, Pančevo, Pakrac, Pest, St. Andrea, Szeged, Timisoara, Trieste...
By: Dragan Lakićević
Visionaries
MILENA PAVLOVIĆ BARILI (1909-1945), TRULY SERBIAN, TRULY INTERNATIONAL
Driven Away to Succeed
At the age of only twelve, she got enrolled at the Art School in Belgrade, the then Academy. She studied in Munich with the famous Von Stuck, attracted attention with her art and her personality in Paris, Rome, New York. She found her place besides Frida Kahlo and Tamara de Lempicka. Yet, she could not even find a job as a drawing teacher in the (then) Southern Serbian small towns of Štip, Veles and Tetovo, which was the reason she left! Serbia now marks the hundredth anniversary of her birth as a first-class cultural event. Is that a sign that we got the point?
By: Dejan Djorić
Ars sacra
THE EXHIBITION "SEVENTY YEARS LATER" ATTRACTS THOUSANDS OF VISITORS TO ŠID
Sava Šumanović's Permanent Attraction
Precisely seven decades ago, the great artist practically alone organized his solo mega-exhibition in Belgrade. on two floors of the New University building (today Faculty of Philology). He exhibited four hundred and ten pictures. The exhibition was officially opened by Todor Manojlović, and the photograph of the opening ceremony features, among other eminent guests, a dominant figure of Alexandar Deroko with his wife... The exhibition was a huge success, both in artistic and cultural respect. What about you? When are you going to visit Šid?
By: Vesna Burojević and NP Press
Presentation
DR JUR. CHRISTIAN OTTO NEU, GENERAL MANAGER OF "DDOR NOVI SAD"
Investment into the People of Serbia
One of the leading companies in the insurance area, member of the Italian "Fondiaria Sai" group since a year ago, will invest over 15 million Euros into raising the level of safety in traffic, which is the largest non-government investment of such kind. More than 100,000 drivers in Serbia will get a supreme training, go through the most critical situations at actual speed, and learn how to react, especially how to prevent dangers. Subsidized or free of charge attendance of the training programs are available to all, regardless of whether they are insured with "DDOR Novi Sad" or not
Partners
"MERKUR" FROM VRNJAČKA BANJA, THE PARTNER OF "NATIONAL REVIEW" AND THE HOLDER OF ONE MORE IMPORTANT ACKNOWLEDGEMENT
The Golden Key of Southeast Europe
In the annotation of the jury of the International Centre for Tourism and Hospitality Development, we can find something that our readers were informed about several times already: "Merkur" really made new standards in health tourism of the region, and that is why it is officially called the "House of Health". It became so popular that 780 beds in new and old "Merkur", in "Šumadija" and in the renovated "Mirko Tomić" are not enough anymore, so this Special Hospital bought some space in "Fontana" complex. The tourist season never ends in "Merkur", it only has different names
Recognitions
"SRBIJAŠUME" AWARDED "GRAND PRIX" AT THE BELGRADE INTERNATIONAL "ECOFAIR 2009"
Wise Green Treasure Management
The public enterprise "Srbijašume" was founded in 1991 by integration of companies dealing with forestry, hunting, horticulture, and even with fishing and secondary forestry products (medicinal herbs, mushrooms, honey, snails...). Today it is in charge of 1.3 million hectares of forests, including many state protected natural resources. It has been guided by a high environmental awareness, which at the beginning of the twenty first century should be the characteristic of any human being with elementary sense of responsibility
Builders
"PROJEKTOMONTAŽA", ONE OF THE LEADING COMPANIES IN MODERN SERBIAN CIVIL ENGINEERING
Construction Projects Tell It All
Top quality, major projects, social responsibility – these three elements make the essence of business philosophy of the company "Projektomontaža", which is best evidenced by its long list of completed first-class projects, forty years at the top in its field of business, and constant progress in a highly competitive environment
Presentation
RADIŠA KOSTIĆ, DIRECTOR OF "ELEKTROISTOK–IZGRADNJA"
On High Voltage Wings
The leading company in construction and reconstruction of high voltage electric energy plants, "Elektroistok–Izgradnja" has a long tradition and has certified its reputation by making business with the most prominent world corporations in this and other related sectors. Its business activities have so far been concentrated on the southeast European market, but they are now being extended to the Middle East region
Presentation
MULTIACTIV, NATIONAL COSMETICS BRAND OF "JUKO-HEMIJA"
Two Decades of Quality
Women are very intuitive and intelligent buyers and they surely know why they buy "Multiactiv" products and what they get for their money. In addition to cosmetics, the "Juko-Hemija" company from Bački Jarak near Novi Sad also produces houeshold cleaning and hygienic products, washing machine detergents, desinfection and hygienic products for factories... All of these products comply with the highest international standards