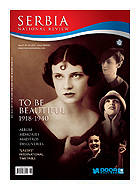 SERBIA - National review no. 26

Prologue
NR has this time provided a treat in the form of a visit to Vršac, a city of wine and despotic gentility. In Boljevci we sail into an unusual nautical village on the Sava River, in Sićevac Gorge we discover a 150,000 years old primitive man with BG archaeologists, we go to pilgrimage to Kosovo and Metohija. We talk with Dule Savić, remember Vasa Popović, ennoble ourselves with an encounter with a beautiful sommelier Đurđa Katić. Aleksandar Konuzin, Ambassador of Russia in Belgrade, in an exclusive article, reminds us of luminous legacy left by Russian architects in Serbia. SKZ presents us incredible travel logs of mathematician Mika Alas. The author of "Constantine's Crossing" leads us into the tavern history of Niš. We will take a peak into the painting world of Momčilo Macanović and the time machine of beauty of Serbian women between two world wars... Will you come with us?
GALLERY

CONTENTS
Prologue
ON GRAFFITI, SPIRIT OF THE CITY AND OLD SCHOOL
You Have Newspaper, We have Walls
Vitrage
NUMBERS, EVENTS, INTERESTING THINGS
Album
PHOTOGRAPHY BY MATIJA KOKOVIĆ
Visit
VRŠAC, THE CITY OF CULTURE AND WINE, ON THE ROOF OF VOJVODINA
The Jewel of Southern Banat
If it gave birth to a comediographer such as Jovan Sterija Popović, painter like Paja Jovanović, poet like Vasko Popa, if it has famous vineyards and wines, if for centuries it has been maturing under the old Tower on the Hill, Đurđe's, despot's, if the highest peak in Vojvodina (Gudurički) is near it, from which one can see "until the end of time" – then it is not an ordinary city and this is not a routine story about it, one of many. There, an hour of slow drive from Belgrade and Timisoara, two hours from Novi Sad, a lot is waiting for you. Whether you are a businessman, tourist, adventurer, traveler, explorer. You can also come by train, and you can fly. And we learned about this city and municipality from the president Čedomir Živković, a gentleman and entrepreneur
By: Goran Budimir
Pilgrimages
BELGRADE STUDENTS AND REPORTER OF "NATIONAL REVIEW" VISITED KOSOVO AND METOHIJA
No One's Is Burning Till Dawn
Every six weeks, an independent student organization from the capital organizes humanitarian and pilgrimage travel to the occupied Southern Serbian province. Under police escort, they visit the most important sanctuaries and the last enclaves inhabited by Serbs. We joined one of these journeys, for the seventh anniversary of the horrible March pogrom from 2004, and recorded
Text and photographs: Dragan Bosnić
Banks
NAUTICAL VILLAGE IN BOLJEVCI, ON THE SAVA, IN THE VICINITY OF BELGRADE
Ancient Attraction of Water
The idea had been crystallized, support provided, money resolutely invested, and soon these unusual small houses were raised in Srem. On pontoons, on the water, with a beautiful balcony and place for sunbathing on the roof, each with a pier, with a small forest and hiking track in the back. The Sava makes a turn there in the shape of a horseshoe and its width reminds of a spacious sea gulf. One can fish here all kinds of fish better than anywhere else, those with experience say. From New Belgrade, one can reach it in half an hour by public transportation, much faster by car. And by boat?
By: Olga Vukadinović
Photo: "National Review" and Municipality of Surčin archive
Discoveries
BELGRADE ARCHEOLOGISTS CHANGE THE PALEOLITHIC REPRESENTATION OF SERBIA AND EUROPE
Prehistoric Man from Sićevo
The news released by Reuters in 2006 went unnoticed in Serbia. The remains of a hominid at least 150.000, probably several times more years old, were discovered in the Velika and Mala Balanica caves, in the famous gorge between Niš and Pirot! This year, the Belgrade research team will be accompanied by the Winnipeg University (Canada), University of Bordeaux (France), Hamilton University (USA) and Oxford (Great Britain). Perhaps it wouldn't be bad if we were more seriously interested in our case, would it?
NR Press
Photo: Balanica research project
documentation and Dragan Bosnić
Memory
RUSSIAN AMBASSADOR ALEXANDER KONUZIN EXCLUSIVELY FOR "NATIONAL REVIEW" ABOUT THE MAGNIFICENT HERITAGE OF RUSSIAN ARCHITECTS IN BELGRADE
Our Duty Is To Remember
They were the flower of Russian national elite and then suddenly lost everything. Thousands of them came to Serbia, which they found as a new motherland, paying it back in the same way. In twenty years (1921-1941) they designed and built several thousands of objects here, among them more than two thousand in Belgrade. Government buildings, the royal palace, churches, palaces, villas, even cemeteries. They built themselves and their talent into the recognition of Serbian cities, leaving us discrete clues about their origin, before fate moved them further, towards new shores
Library
ANCIENT BOOKS: EXCITING TRAVEL LOGS AND "NOVEL OF THE EEL" WRITTEN BY THE FAMOUS MATHEMATICIAN ONCE PUBLISHED BY THE SERBIAN LITERARY COOPERATIVE
The Ocean – Mika Alas
We have already written about this extraordinary man, one of the most important people of Serbian science and culture of all times ("Genius from the Sava Slope", NR, no. 11). We know he was a first-class scientist, he got his doctoral degree at the Sorbonne, became a Serbian academic at the age of 31, founded the Belgrade School of Mathematics, was one of the first eight regular professors of the Belgrade University. He had a riverboat "Karas" on the Sava, played the violin in the "Suz" orchestra, passed the exam for a fisherman master. It is not commonly known, however, that Mihailo Petrović Alas (1868-1943) took part in polar expeditions, sailed far away oceans, visited the then unknown islands and published unforgettable books about it in the Cooperative's libraries "Instructor" and "Contemporary"
By: Dragan Lakićević
Old Masters
VASA POPOVIĆ (1923-2006), AN UNFORGETTABLE WRITER AND JOURNALIST FROM A TIME WE ARE ONLY ABOUT TO REGRET
Prince of Comedians and Bohemians
If judging by the city, press desks and kafanas, and everything else deep and wide, there are no more of his kind. He, the protégé of Branko Ćopić and friend of Miloš Crnjanski, was the first Belgrade journalist after World War II who started using first-person narrative. Stubborn, talented and disobedient, he was remarkable even among kafana aces such as Zuko Džumhur, Libero Markoni, Branko V. Radičević. He did not care about the world, he followed his own internal rhythm. He wrapped everything into humor, healed us from fear and provincialism, taught that the Great Wide World is the same as ours. Exactly
By: Milorad Ćirilović
Winner
DUŠAN SAVIĆ, LIVING LEGEND OF SERBIAN FOOTBALL
A Dream of Justice and Its Price
Belgrade was exploding when the "North" chanted his name. He was the icon of the Serbian club with most trophies won, divine playmaker, the idol of millions of talented kids with fire in their eyes. He did not stay in the shadow of Dragan Džajić, his neighbor from Ub and predecessor. He led the champion generations of Zvezda, defeated Arsenal, West Bromwich, Hearth, was the leader of Gijon, Lil, Cannes. Up to the very day, he remained himself and ours, a personality with a strong foothold in ethics, family and nation. His father and twin brother were centre-halfs, his son Vujadin plays in the same position in France, so he is jokingly considered a black sheep
By: Dejan Bulajić
Philosophy of Wine
DEVELOPMENT OF WINE CULTURE: ĐURĐA KATIĆ, NATIONAL CHAMPION OF SOMMELIERS
Great Return of Serbian Wine Making
Despite the long wine tradition, mi we are today, unfortunately, the beginners. Terrible historical interruptions caused decimation in Serbian wine making. However, during the past decade, almost unbelievable progress has been made. We should only keep going. The key is in as many as possible wineries and autochthonous varieties, in advancement of what the others do not have. The work of sommeliers is attractive, but is not easy. It requires passionate and delicate dedication to wine, and wide knowledge and deep feeling. And in the mating of wine and food, just like in marriage, harmony is the most important. Neither one nor the other can dominate, they should complement each other, expose good sides and hide weaknesses
By: Radmila Tamindžić
Soul of the City
A BRIEF HISTORY OF THE LIFE OF NIŠ KAFANAS
Where Real Stories Swarm
Many kafanas of old Niš have entered literature and a lot of literature came out of them. Even today you can sail with a "Gale" full of "Pearls" from "Marger" to "New York", with "Three Lanterns" lighting your path. Along the way you will meet many old acquaintances: Sremac, Nušić and Pašić, Šaban Bajramović and Branko Miljković, Zvonko Karanović, Zoran Ćirić and writer of "Constantine's Crossroads", our exclusive guide through the "local mythology" of Niš
By: Dejan Stojiljković
View
MOMČILO MACANOVIĆ (1966), LEADER OF THE CONTEMPORARY GENERATION OF PAINTERS IN MONTENEGRO
Mediterranean Serenity and Sensuality
He is a painter of the daytime side of life, the refinement of the maritime environment filled with scents, colors and light. There is no monstrousness, no horror and darkness. He is neither impulsive nor calculative. His works used to be more fantastic and had another kind of dedication. In general, he is one of the most important and most unique representatives of his generation, which was clear by the audience at the opening of his third solo exhibition in Belgrade
By: Dejan Đorić
A JOURNEY THROUGH TIME
THE EXHIBITION PEOPLE TALK ABOUT: "BEING BEAUTIFUL. PHOTOGRAPHY AND SELF-PRESENTATION: AN IMAGE OF A WOMAN IN SERBIA (1918-1940)"
Challenges of Forced Freedom
The exhibition at the Serbian Museum of History, one of the most interesting cultural events in Belgrade this spring (from March 8 to April 30), reminded us of some forgotten aspects of the Serbian bourgeois culture in the interwar period. How did the women interpret and live the canonic types of beauty forced upon them by the then commercial culture? How did they suffer the beauty forced upon them by the media and the attempts of the fashion, cosmetics and film industry to widely educate women to be their disciplined consumers? What did the revolution of tight satin dresses and the first swimming suits bring into our lives? How much did the image of a woman with a lit cigarette from the big advertising campaign of the tobacco industry influence the forming of a modern female "vamp" style in the media? What did the general eroticization of the public realm bring? About all this, for National Review, the author of this excellent exhibition
By: Katarina Mitrović
Virtue and Skill
OHRID PEARLS OF THE RISTESKI FAMILY AND SECRETS OF THEIR MANUFACTURE
Precious Jewelry Made of Fish Scales
Old crafts are dying out, real artisans dedicated to them are increasingly rare, everything is flooded with cheap jewelry from the Far East spat out by huge ocean liners and distributed by general purpose smugglers. And where they do survive, old artisans watch with sadness how the senile barbarians of the global nomadic world reduce them to local exotics, folklore and tourist-circus attraction. Fortunately, there are exceptions. Ohrid pearls, for example, and almost alchemical method of their manufacture. This is what we learn from Blagoja Risteski, exquisite young artisan from one of only three local families that are truly committed to this craft
By: Slobodan Klisinski
Introducing
GORAN ĆIRIĆ, GENERAL MANAGER OF JP PTT COMMUNICATIONS "SRBIJA", FOR "NATIONAL REVIEW"
Institution that is Closest to the Users
Efficiency and benefits of this system are continuously growing. Full automation of parcel processing is being introduced in new postal centers in Belgrade, Novi Sad and Niš, which will additionally shorten the periods of delivery, increase reliability and enable tracking of your parcel at any moment. Another significant improvement is introduction of a new system of parcel transfer, both electronic and physical. People will soon be able to perform a significant part of administrative activities, such as obtaining a statement or certificate, in the nearby post office. "Serbian Post" will also be servicing an individual export of products manufactured by small enterprises in the amount of up to EUR 6,000
Energy
DR TIHOMIR SIMIĆ, DIRECTOR OF "ELEKTROVOJVODINA" IN NOVI SAD
Better, More Modern, More Successful
In accordance with all exact parameters, this company is today the most efficient part of the electric power distribution system of the EPS. However, for the experts of "Elektrovojvodina", that is not the end of ambitions and goals. They are concentrated on reducing the loss of electric poser, improving the system of collection, modernization of the process of calculation of consumption, introducing new software, investing into electric power structure. Only in this way it is possible to keep up with the developed world
Lighting
UNIQUE HYDRO POWER PLANT "RAS", BUILT IN 1953
Electricity from the Bosom of the Earth
The idea to use hydro potential of the Raška in its headwaters was first presented (in 1932) a civil engineering professor, engineer Miladin Pećinar, an academic, one of the famous Serbian 1.300 corporals. The idea was realized after World War Two. It was decided to close the exit from a cave (the spring of Raška) and to distribute water through a 4.267 meters long underground pipeline to the power plant, also built underground... This power plant is still operational today, it can produce 23 million kilowatt-hours of electric power annually
By: Zoran Plavšić
Photographs: Dragan Bosnić
Knowledge
PROF DR MILOVAN STANIŠIĆ, RECTOR OF "SINGIDUNUM" UNIVERSITY
Learning as the Best Investment
"Established to provide the best modern education and to respond to real needs of the economy and the state, 'Singidunum' actively cooperates with over 40 renowned international universities and a large number of companies. Students are in the centre of education and everything is subordinated to them. That is why our students are motivated and show an enviable level of creativity. We enable each student to develop in accordance with his/her needs, to build him/herself as an expert and as a person. In this, the state is provided with personnel that meet the highest standards and in accordance with the needs of the economy, and we are satisfied because we complete an important mission and enable young people to be successful, to be better people, to be better than us"
By: Roza Sazdić
Examples
ELEMENTARY SCHOOL "SVETOZAR MARKOVIĆ TOZA" IN DETELINARI IN NOVI SAD
A School Tailored to Children
It is the easiest to just go with the flow, hide behind common places, to shrug with one's shoulders. There is no money and no motive, the laws and the legislator are bad, terrible disturbance in the society reflects on the school, destroying the system of values. But personal effort, creativity and solidarity always reassure us, over and over again, that positive examples have strong and effective power. And that not everything is lost, that it does matter, and is not in vain. Here is another such example from the "Serbian Athens"
By: Helena Duković
Recommendations
HOTEL "VRUJCI" IN THE SPA RESORT WITH A SAME NAM NEAR MIONICA
Come, Try, Believe
In this era of merciless bragging, into which a lot of money is invested, people who run this well known tourist, healthcare and sports-recreational center in Banja Vrujci do not like to talk about themselves much. Their artistry and qualities, their possibilities and advantages, they would rather show directly. They are fond of that old saying that good news travels far and bad even farther. They think that their best promoters are those who have already been their guests. Our reporters are now joining that group
Insurance
DDOR PROVIDES INSURANCE FOR THE DRIVER, PASSENGERS AND VEHICLE
Additional road safety
Guide
"LASTA'S" INTERNATIONAL TIMETABLE