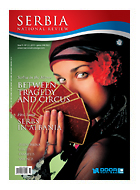 SERBIA - National review no. 27

Prologue
The strike of cynicism of the tyrants of this world and time, which the Serbs have been exposed to so many times during this brief period of the new millennium, seems not to be of human origin. The humiliation this nation and this country are pushed into is taking on horrible proportions and opening before us like an abyss. Testing Serbian patience has exceeded the utmost limits of durability, both on the inside and the outside.
It is difficult to say anything about anything in such circumstances. We have entered a different language zone. While the "international forces" and criminal structures in Kosovo and Metohija are preparing the "final migration of the Serbs", what are WE going to do? YOU and ME, man?!
The new "National Review" is before us so that, in the meantime, we would not forget WHO WE ARE and WHY WE ARE.
GALLERY

CONTENTS
Prologue
SERBIA IN A HANDY MIRROR
Between Tragedy and Circus

Vitrage
NUMBERS, EVENTS, INTERESTING THINGS
Album
PHOTOGRAPHY BY MILAN JANKOVIĆ
Skadar Elegies
"NATIONAL REVIEW" VISITING SERBS IN ALBANIA
This Is My Favorite Song...
They have never arrived at the destination their forefathers set off to. Detained, they had to survive tyrannies of King Zog and Enver Hodža, to register under someone else's name and as other nationality, but they did not forget who they were and where they came from. Neither did they forget to say that in the language of their ancestors. Their religion is Islam, but they are committed to consider themselves as Serbs, and Serbia as their homeland. Nowadays, they are taking legal actions and returning their original Serbian names. They organize school by themselves and teach their children their original mother tongue – Serbian. Will today's Serbia be able to help them?
Text and photographs: Mišo Vujović
Downstream
SPRING SAIL DOWN THE DANUBE FROM TEKIJA TO KLADOVO, THROUGH ALL CENTURIES
Archpriest's White Swans Have Flown Away
For centuries it was an exciting and dangerous journey, just like the one from 1804 described by Archpriest Mateja Nenadović in his famous "Memoirs". And today, when masterful orchestra lets loose on the deck of the ship and selected dishes and wines from this part of Serbia are served on the table, it makes traveling through time more smooth, more conciliatory. And you do not only encounter huge tourist cruisers, against which our boat looks like a nut shell, but also powerful Roman emperors, the last king of Dacia, miraculous old builders from the East and modern engineers, people experienced with water and those that are better with words
By: Jovan Vučković
Photographs: Dragan Bosnić
Travel
FIFTH DECADE OF UNUSUAL ASSOCIATION "IZLETNIK" IS GETTING NEAR
People in Love with This Country
The Association was founded, as far back as 1974, by Jugoslav Mihajlović, now deceased, former journalist of TANJUG. Goal: to get the citizens of Belgrade out of their houses during weekends, to encourage them to socialize, spend time in the nature, learn about history and culture. Since then, so many people passed through "Izletnik" and reached so many destinations. in 1979, Nikola Lorencin made a film about this society. And Radmila Katalina, better known as Keti, has been their exceptionally creative guide and "travel ideologist", for 33 years
By: Radmila Tamindžić
Photographs: Aleksa Stojković
Natural Monuments
PRERASTS – NATURAL STONE BRIDGES – NATURAL PHENOMENON AND ORNAMENT OF SERBIA
Under the Stone Triumphal Arch
They have been drawing attention and stimulating imagination for centuries. Some say that these stone bridges come from OVERGROWING between two cliffs, as their name indicates. The others claim that they were created by the falling of cave ceilings, something that could happen in a near future in Bogovinska and Samar caves. Others ascribe them to powerful past rulers, most typically Emperor Trajan, and believe that treasure was buried in their stone foundation. And some are convinced that there are dark forces involved here, that demons are trying to sunk the world through these natural stone bridges, and that only rusalje, such as those from the village of Duboka, are preventing them to complete this
Text and photographs: Dragan Bosnić
Memory
LIGHT AND TOUCHING TRACES OF THE RUSSIAN REFUGEES' COLONY IN SOUTHEASTERN BANAT
Angelic Colors of Bela Crkva
A big group of great people, refugees from imperial Russia hid in this town from the terror of the Revolution. Two elite schools were moved there, at the level of famous English and French colleges: Mariin Don Institute and the First Russian Cadets Corpus of the Great Prince Constantine Constantinovich. Oh, the stories, fates and blood that entangled here! We will present part of the facts, however a film and a novel are actually needed for this
By: Tatjana Marković
Library
120 YEARS OF THE MOST SIGNIFICANT SERBIAN PUBLISHER
Peers – Ivo Andrić and SKZ
In 1892, the founders of the Serbian Literary Cooperative could assume that there will be more writers in the future comparable to those which the Cooperative was founded for (to research them, interpret, print and return to the nation that gave them). However, there is no way they could have known that Ivo Andrić was born that same year in Travnik, future writer and Nobel Prize winner, who would dedicate almost his whole literary life to the Serbian Literary Cooperative
By: Dragan Lakićević
Visionaries
DRAGUTIN INKIOSTRI MEDENJAK (1866-1942), FOREFATHER OF DESIGN IN SERBIA
Being the First on a Long Road
He prepared his program for the Serbian artistic renewal for a long time. He traveled through the Coastal Lands, Macedonia, Kosovo and Metohija, Southern Serbia, and collected and processed over 2.000 motifs from folk embroidery, weaving and carving. Afterwards, together with the motifs from folk mythology and ethno symbolism, he wove them into his modern art. He decorated the National Theater, the big hall of the Kolarac beerhouse, ministries of finance and education, ceremonial hall of the Third Gymnasium. He designed furniture, rugs, space, everything. He exhibited at the "Balkan Exhibition" in 1907 in London and the "World Exhibition" in 1911 in Turin. He attempted to introduce what we today call interior design and total design. And at the time he was alone
By: Vladana Putnik
Old Masters
VLADIMIR BULATOVIĆ VIB (1931-1994), TITAN OF SERBIAN SATIRE AND BENCHMARK OF BELGRADE JOURNALISM
Gracious Slave Driver
He wrote as if he were making a "Schaffhausen", his favorite watch, and edited as if he were repairing it. His editorial boards worked in kafanas, homes, trains, wherever they may be. And everywhere one could feel his masterly hand, even in letters of readers. He was born in Macedonia, grew up in Šumadija, and was a true Belgrade citizen. On first name basis with this city, he was a fan of OFK, defeated everyone in tablići card games and mini-golf in Kalemegdan, sang about small lovers from suburban woods (petty thieves of tenderness), smoked his pipe and "Gitanes", ate for five, and remained an internal nightmare for bureaucrats and Communist Party officials
By: Milorad Ćirilović
Books
"IN THE SHELTER OF THE SOUL", BOOK OF COLUMNS AND INTERVIEWS WITH MOMO KAPOR, "ODBRANA" EDITION
Kapor left, imposters stayed
It turns out that this great master has left a significant legacy to military journalism as well. With the same smile of a wizard who managed all genres.
Media
ĐORĐE VLAJIĆ, RADIO BEOGRAD FIRST PROGRAM EDITOR IN CHIEF
Radio Is a Phoenix
"Radio is a modern media, written off too early in the competition with new wonders of communication. Sometimes some technological novelty leaves it aside; however it always finds a way to return. Radio Beograd again has a growing influence and popularity. It is the only program radio in Serbia, with the responsibility of a public service (others are commercial stations). Guardian of tradition and elementary cultural and informative values. We are now changing its rhythm, modernizing its sound, spreading quality"
By: Danijela Petrović
Photo: Dragan Bosnić
Eye
MILOJE MITROVIĆ, A UNIQUE PAINTER FROM VALJEVO AND LAJKOVAC, KNOWN AS FAR AS COPENHAGEN, AND MUCH FARTHER THAN THAT
Guardian of Zebras in Our Town
Those beautiful black and white animals have marked his artwork, especially those painted on the pavement (directly in the lives of viewers). They were seen by art and game lovers in several metropolises in the world. In Denmark they were exhibited right next to Warhol. In Belgrade, his first zebra was painted in 1995, in front of the school "Miloš Crnjanski" on Banovo brdo. Then came Valjevo, Novi Sad, Arilje, Požega, Bačka Palanka, Banjaluka... And here is how an old wolf of Belgrade journalism has remembered them
By: Borko Gvozdenović
Photographs: Željko Sinobad, Matija Koković
Worlds
SRĐAN MILETIĆ, PAINTER, REBEL, EXPLORER OF DANGEROUS PATHS
Reality behind Smiling Masks
He dared to slap the faces of hedonists, designers and gurus of advertising, annihilating the sugar-coated world of advertisement and TV soap operas. He stood against humiliating shallowness of civilization of pleasure, kitch, instant value and boredom. He is shaking, provoking, scandalized, frightening, does not give peace to snobs, puritans, pietists. To the ruling hollow marketing dolls. Yes, "he is a looser". His paintings are caves from which transcendental fires are burning. He goes deeper than beauty. There, where fear, despair and hope dwell. He does not ask about the first, but about the last painter
By: Dejan Đorić
The Winner
DEJAN BODIROGA, UNFORGETTABLE BASKETBALL CHAMPION, NOW VICE PRESIDENT OF THE BASKETBALL FEDERATION OF SERBIA
Not Everyone Could Endure This
From his family home in Zrenjanin, he set out into the world at the age of 16 and found his way towards the top of the tops. He played brilliantly in the best clubs, lived in the most beautiful cities of Europe, but after all returned to Serbia. He loves his country and his people, its soul, charm, tradition, culture. He is engaged in serious defense of the endangered national identity. He knows that a degree of provincialism, improvisation and lack of harmony are not good companions. He knows that our country should be better arranged and organized. He knows that we have much work and many obstacles in front of us. However he does not easily negate our self: "What we have been exposed to during the previous twenty-odd years, not many nations would endure better than us"
By: Dejan Bulajić
Guide
ANTAS (ASSOCIATION OF INDEPENDENT TOUR OPERATORS OF SERBIA) RECOMMENDS: GYULA SPA, PANNONIAN FLORAL OASIS
A Healing Idyll
The fortress has been here for six centuries and it has always changed its masters without a battle. In addition, the history of healing in these thermal waters is even longer and more delicate. This nicely landscaped town with fine patina is the most famous town in Hungary and second in the EU for its floral and greenery arrangements in the public space
Knowledge
FIVE AND A HALF DECADES OF BELGRADE BUSINESS SCHOOL
Always at Least a Step Ahead
Founded as far back as 1956, this school was one of the first in Serbia to go and face new educational strategies and new technologies of the information era. For this reason, its charts have been marked by development and growth for decades. Today, it is an accredited institution of high vocational education with the biggest number of active students in Europe (7.500), among which there is an increasing number of foreigners. Here is why
Knowledge
FACULTY OF HOTEL AND TOURISM MANAGEMENT, BELGRADE UNIVERSITY "SINGIDUNUM"
Young People Need Support
"Most of our new students joined us based on information received from those who are already in our college. This is really the best possible recommendation as well as a confirmation of quality", says the Dean, Professor Dr Krunoslav Čačić. "It is necessary to invest in knowledge. Provide the best conditions for studies. Support for students is the foundation for everything else and we strive to be the first to give them a hand"
By: Rozana Sazdić
Trails
SUMMERS ARE ALL THE MORE INTERESTING ON KOPAONIK, THE CENTER OF SERBIAN WINTER TOURISM
The mountain of knowledge and joy
Exciting hiking tours, jeep-safaris, rafting on the Ibar River, visiting medieval and modern monasteries, first-class meals, tennis camps in which Novak Đoković and Ana Ivanović began their way to the top... Since last year, special summer offerings on Kopaonik is particularly enriched by "English Summer" camp for learning English, organized by the prominent "The English Book"
By: Dušica Milanović
Illumination
The "VRELO" HYDRO POWER PLANT IN PERUĆAC, IN OPERATION SINCE 1927
Short River but High Power
The Vrelo (Spring) River, the shortest river in Serbia, is long in meters as there are days in a year. From its strong spring at the foot of Tara, water gushes at 330 liters per second. The creator and designer of the hydro electric plant on its banks is Miladin Pećinar, famous builder, Academic, Professor, and "the father of Serbian hydrotechnics". The "Ganz Danubius" turbines, manufactured in Budapest, power an asynchronous generator managed by Subotica's company "Sever" (The North). It is not as powerful as its big neighbor "Bjelovar", but HE "Vrelo" has been of immense benefit for decades
By: Zoran Plavšić
Photo: Dragan Bosnić and EPS Archives
Energy
"ELEKTROVOJVODINA", DISTRIBUTOR OF PRECIOUS ENERGY AND STANDFAST OF DEVELOPMENT IN THE NORTHERN PROVINCE
Continuous improvement of the system
In the near future, the most modern dispatch center in the region will be operational as well as the first company's contact center, integrated billing. Also, significant number of power facilities will be put into operation, delivery of electrical power will improve, the spectrum of customer service widened and front – office modernized in all branches. "During this year we shall invest 50 million Euros for new facilities, network maintenance and enabling it for higher level of workload", says Dr Тihomir Simić, the head of the company
Introducing
THERMAL POWER PLANTS "NIKOLA TESLA" STRONLY COMMITTED TO CORPORATE SOCIAL RESPONSIBILITY
Energetically for a Healthy Life
This company, a true energy giant, has already invested 70 million EUR in environmental protection projects, and it is planning to invest another 440 million by 2017. Plants have been revitalized and their service life has been extended, production and energy efficiency were increased, emission of hazardous gases was drastically reduced... The most significant environmental project in the Balkans is still ahead: construction of the plant for desulphurization of flue gases
Insurance
"DDOR NOVI SAD" AND AUTO CENTER "STOJANOVIĆ"
Full Service and Valuable Gifts
Insurance
DDOR's HUMANITARIAN GOLF TOURNAMENT
Donation for "Humane Heart"
At the humanitarian golf tournament, organized by company DDOR Novi Sad together with its clients, RSD 650,000 was collected. Out of this, DDOR Novi Sad itself donated RSD 300,000. All collected funds were handed to the Fund "Humane Heart" from Šabac
Catalogue
A LITTLE CASUAL POSTCARD FROM SVRLJIG
Originality as an Invitation
From the thermae of the Roman founders of the city to the one of a kind belmuž, from recuperating herbs to recuperating images, from caves for true adventurers to important archeological sites, from slices of joy to sausages measured in meters – this town will justify your curiosity and traveling passion. If they are genuine
Models
"MIN DIV SVRLJIG", ONE OF THE BEST PRIVATIZATIONS IN SERBIA
Everything for High Speed Railways
They were taken over by a company from the same industrial branch, which invested serious capital. Nobody was fired, all liabilities settled, the production volume and quality raised, almost 90 percent of its products are exported to the most demanding markets
Introducing
"POST SERBIA" IN TH EDEVELOPMENT OF NEW MANAGEMENTG SYSTEMS
The Era of Electronic State
Electronic management projects, in which "Post Serbia" is one of the key actors, will open an enormous area of possibilities. Central register of personal data records, electronic record of citizens, electronic exchange of data on citizens, construction of 2,000 kilometers of optical macro-communication infrastructure along the rails, Postexport – will significantly change modes of operation of state administration, operating models, influence the everyday life of citizens
By: Mihailo Jovanović, MS
B.Sc. Eng