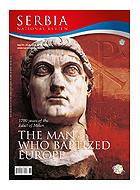 SERBIA - National review, No 36
Prologue
We will neither scare you nor make you laugh. Anyway, there are too many experts whose work duty is to do that. We do not invite you to save someone's heart with an SMS or o buy a bus for "Red Star". We do not offer a pork loin for 99.99 something. We want you to learn where tennis was played for the first time in central Serbia. What is the name of the man who baptized Europe. Why the heart of Serbian Banat has three names. Is Mihajlo Pupin in Idvor today. Where the "Little Belgrade under a red rock" is located. What our archaeologists found in Jagodin mala in Niš. Where the descendents of Serbian tribe of Nikšići are. How come the EU has been in Serbia for 300 years. (...)
If this is also what you want, then you are in the right place. <
GALLERY
CONTENTS
Prologue
SUSPICIOUS CHRONICLE OR SAD SPOOF
Civilization Step into the Abyss
Vitrage
NUMBERS, EVENTS, INTERESTING THINGS
Album
TWO COURTS, TWO WORLDS, TWO FACES OF SERBIA
Bridges and not Trenches
Jubilee
CELEBRATION OF 1700TH ANNIVERSARY OF THE EDICT OF MILAN HAS BEGUN
The Man who Baptized Europe
The famous act officialized religious tolerance in the empire, prohibited persecution of the heterodox and Christian church was given the right to act publically. It is one of the most significant dates in the entire history of Christian church and civilization. Throughout this year, eyes of at least two billion christened people will be looking at Niš, the former Naisus, birthplace of the emperor who adopted this law and who was gaining victories under Christian insignia, because the official centre of the celebration will be located exactly there. And what have Niš and Serbia prepared for this occasion?
By: Daša Marjanović
Photographs: Archives and reporters of "National Review"
Chronicle
PRIBOJ ON THE LIM, THE FIRST TENNIS CITY IN SERBIA
Waking up in European Gowns
Since the mid 19th century, people have been able to send telegraphs from this town in Serbian, Turkish and French. Since 1880, they have played tennis, since 1885 the city water supply system has been in operation, home bathrooms have water heaters with fireboxes. There is a modern hotel, with chess and pool rooms, publications from around the world arrives, orchestras are playing vivacious dance and Serbian kolo, day also organize "dance evenings with lottery"... Since the mid 20th century, everything has changed, only the main street and a few alleys have remained where they used to be
By: Savo Derikonjić
Guide
ZRENJANIN, ELEGANT AND MODERN CITY RESIDING FOR CENTURIES IN THE FIRST PLAIN
Heart of the Serbian Banat with Three Names
Famous for its buildings and bridges, choirs and orchestras, top athletes and artists, beer and puppet theatre, this city used to be "the biggest food factory in the Balkans". Today, having overcome difficult years, it is recognized as one of the cities in Serbia most attractive for investments (this recognition was officially awarded to it in 2006 by the US Agency for International Development)
Invitation
SREMSKA MITROVICA, THE CITY OF FESTIVALS AND PICTURESQUE EVENTS
The Art of Meeting and Hosting
Many things can be found here, all year long. Jazz and blues, pikes and donkeys, museums and ponies, bikers and string instruments, emperors and percussionists, melons and folk, ladles and boats, dukes and peasants, and mangulica pigs, of course. Tambura players, ladies and many fine people go without saying
Orientation
VRNJAČKA BANJA PREPARES A FIELD FOR NEW INVESTMENTS
An Opportunity for Serious Investors
On about fourteen hectares, on one of the most attractive locations in the town, it is planned to build a thermal park and other first rate tourist programs. Negotiations with foreign investors are in progress. With a series of administrative and business benefits, the Municipality additionally stimulates investments in the development of Banja and the entire region
Reminder
THE VILLAGE OF IDVOR, IN KOVAČICA MUNICIPALITY, REMEMBERS ITS CELEBRITY
Hometown of Mihajlo Pupin
He traveled a difficult road and rose to the top summits of world science. But he never forgot his Banat and his ancestors. He added "Idvorski" to his already famous name. His autobiography entitled "From Pastures to Science", crowned with Pulitzer Prize, he dedicated to his mother Olimpijada. He called his estate in Norfolk – his American Idvor. And memories and materials about all this is kept by the Endowment of Mihajlo Idvorski Pupin (1854-1935) in the village where he was born
Notebook
WINTER CRUISE OVER THE OLD MOUNTAIN
On the Roof of Central Serbia
It is not like one can see "all the seas of the Balkans" from here, as one local legend claims, but what one can see, one does not forget. Pretty residences, intoxicating traditional cuisine, a deer near the waterfall, thirteen kilometers of well developed ski trails, and a modern system of ski-lifts, cable-car, gondola, and hotel built in accordance with high European standards... And, on top of it all, the nature that preserved its chastity. This is the reason why this youngest tourist centre in Serbia is also considered the most perspective one
By: Ljiljana Pavlović
Over the Mountain
BELOGRADČIK, A PLEASANT TOWN ON THE BULGARIAN SIDE OF THE OLD MOUNTAIN
Little Belgrade below a Red Rock
About twenty kilometers from Midžor, the highest peak of the Old Mountain, this town is well known for rocks of unusual shapes in which it has fitted itself. The red color comes from iron oxides, and they are also called "rusty stone". Hajduk Veljko, liberator from Turkish occupation, is a respected hero here. He has his own rock and his own legend. In the evenings, Serbian folk music is played in taverns, and thus the impression that you are actually in Belgrade
Text and photographs: Dragan Bosnić
Catalogue
IN NEGOTIN, ON THE THREE-WAY BORDER, WITH MOKRANJAC RUKOVETI AND VELJKO'S FEATS
With Krajina in the Centre
All this is a little intoxicating. The Celtic traces, Roman ruins, Vlach magic, food from clay dishes, wine from vineyard settlements, and kolo on the meadow, sunrise in the bays of the Danube. And still, it is all so simple and familiar. We are born with it, foreigners fall in love with it. And all of us keep coming back
Explorations
THE FINDINGS OF LAST YEAR'S EXCAVATIONS IN JAGODIN MALA IN NIŠ
Answers for the Riddle of the Late Roman Necropolis
It is now possible to observe, in one area, the urbanistic organization of the "City of the Dead", different types of tomb structures, methods of construction, important elements of spiritual and material culture of the Naisos from late Roman period, when Christianity as still young and previous traditions strong. The results will be published in a separate publication, and discovered items will be presented to the public at the big exhibition in Niš this year
NR Press
Photographs: Zoran Radosavljević Kiki
Origins
SERBIAN CLAN OF NIKŠIĆI, FROM ANCIENT TIMES TO OUR DAYS
Old Tree and Young Sprouts
The precursor Nikša was the matrilineal great-grandson of Stefan Nemanja and grandson of Vukan. He came to Onogošt in the late XIII or early XIV century from his hometown of Krtoli, Grbalj. Numerous dukes and princes came after him, as well as migrations and branches. The descendants of his clan are many famous people in all Serbian lands, some of them our contemporaries
By: Božidar Kljajević
The Forgotten Ones
MILAN JOVANOVIĆ STOJIMIROVIĆ (1898-1966), WRITER, JOURNALIST, TRANSLATOR, POLITICIAN, COLLECTOR
The Last Renaissance Man of Smederevo
His "Silhouettes of Old Belgrade" are one of the best ever written chronicles of the Serbian capital. Also remembered are his writings about the last days of Petar Kočić. He was editor of several papers in Belgrade, Smederevo and Skoplje, director of the "Avala" news agency and State Archive, as well as one of the greatest collectors in Serbia. His heritage makes almost half of the exhibits of the Smederevo Museum Art Department. It turned out that he wasn't the "state enemy" however people still need to find out some things about it
By: Radmila Tamindžić
Traces
THE ĆUKOVIĆ FAMILY, FAMOUS BELGRADE PUBLISHERS AND THEIR UNFORGETTABLE BOOKS
Kadok from Gundulićev Venac
Historians Durković-Jakšić and Starčević consider them one of the most significant Serbian publishers, booksellers and printers. They established publishing of schoolbooks and children literature. Many of our generations grew up with their library "Youth Literature Classics" (Kadok). In a quarter of a century, they published more than a thousand titles. Then, in 1948, their property was expropriated and their work forbidden. Today, six and a half centuries later, their successors are trying to correct the injustice and start anew
By: Jovo Bajić
Photo: Ćuković Archive and Jovo Bajić
Symbols
THE MOST FAMOUS SYMBOL OF UNITED EUROPE IN A MYSTERIOUS READING IN PETROVARADIN
A Wreath of Twelve Stars
By recently being granted European Union candidate status, Serbia has been given the right to officially use the emblem of this organization. Thus flags with the well-known symbol, a circle of twelve golden stars on a dark blue foreground, appeared on some edifices in the country. Interestingly, the same symbol has been clear and visible for more than 300 years in Serbia across the Danube. How?
By: Đorđe M. Srbulović
Lighthouses
"ANTHOLOGY OF SERBIAN ROMANTICISM POETRY", THE LAST COLOSSAL ENDEAVOUR OF SLOBODAN RAKITIĆ (1940-2013)
Talking about Eternity
We began writing without knowing it would be farewell, because the great Serbian poet and anthologist departed to higher levels of a Human on January 1. He built his erudition, silent gentlemenship and poetic gift, similar to ancient architects, into this book. Now we can better understand Dositej's opening of the epoch, Đura's patriotism, Njegoš's search of God, Zmaj's dream catchers, Koder's "extreme individuality", and the two roads separating from the poetry of Laza Kostić. We understand that a human is only a thread in time. We no longer ask: "Where are the things that have passed?"
Text: Vesna Kapor and NR Pres
Illustrations: Peđa Dragović
Photographs: Archive of SKZ
Palette
THE BRILLIANT RUSSIAN THREAD IN SERBIAN PAINTING CONTINUES
Magic Realism of Sergei Aparin
Opposite to the rows of others, he came to Serbia in the war year of 1991, at the age of thirty, still not knowing that he is just about to continue the thread of masters including Stjepan Kolesnikov, Igor Vasiljev, Leonid Šejka, Olja Ivanjicki, Đorđe Prudnjikov... Here, in Zemun, he experienced his crucial metamorphosis, alchemic sublimation. Here he discovered his style, his "personal legend" and his artistic path. Here he became an internationally important painter of fantastic figuration
By: Dejan Đorić
Lyre
SLOBODAN RISTOVIĆ, POET, ANCIENT HEALER AND GUARDIAN OF DESOLATED THRESHOLDS
Liturgy over the Desolated Land
Villages are disappearing, thresholds and roads growing into weed. Entire areas are left without people. Only lonely old people and home-guarding snakes care about the little remaining smoke in chimneys. Is this nation really going to end up in adapted basements and attics of big cities, both foreign and ours? Do the sons of this land really still think that they will fool clocks and distance tables and that someone else would take over their worries? Will those who have brought us here also take us out of it? We have forgotten ourselves, yet we want God to remember us? Here is how the Poet, trying to heal us with noble sorrow and unconditional faithfulness, contemplates on this
By: Marina Gorski
Old Maestros
MARKO MARKOVIĆ (1935-2011), LEGEND OF SERBIAN AND YUGOSLAV SPORTS JOURNALISM
With Thunder in Microphone
For decades we watched and experienced the major sports events through his eyes. Where he was, as if we were too. About 2,000 live sports coverages were left behind this unrealized doctor, actor and lawyer. He reported from at least 40 major continental but also planetary competitions. Without him, there would have been no "Sports Review", "Sports Saturday", "Indirect". And wherever he was, whatever he did, he never let down himself or his listeners or viewers
By: Dejan Bulajić
Photographs: Archive of Radio Belgrade and "National Review"
Vagabonds
CHARMING "FRAJLE" FROM NOVI SAD AND THEIR MUSIC THERAPY
A Seductive Journey
Four years, four vocals, two guitars, one album, nine songs, nine hits, more than five hundred thousand views on You Tube, three pairs of heels and a pair of flat shoes, four wheels on the ground, ten thousand meters in the clouds. This is an equation with four knowns: Marija Mirković, Nataša Mihajlović, sisters Nevena and Jelena Buča. When they sum up, we get the "Frajle"
By: Dragana Barjaktarević
Memories of the Street
BELGRADE POETICS OF THE BOTTOM: WITH PRINCE CHARLES, BUKOWSKI
Time of Imperceptible Wellbeing
Welfare flourished, but we knew nothing about it since we didn't read newspaper. Otherwise we would've taken some of it too. Everything functioned because everyone minded both his own and others business. Policemen and poets, informers and thieves. And Alija Sirotanović. And the goats on the bridge, of course. We knew nerds would destroy the country one day, so we avoided classes. We were consoled by the aphorism: "Those who live from day to day just need to a bit of patience"
By: Nebojša Jevrić
Knowledge
SISTERS MOLDOVAN, WELL KNOWN KAYEKERS, STUDENTS OF BELGRADE BUSINESS SCHOOL
Paddling through Business Studies
"At school we formed our competitive character and realized that competitive spirit is not only crystallized in races", say Olivera and Nikolina. "It is not easy to pursue sports career and higher education, but everybody in this institution have been accommodating and helped us with their professionalism and correctness. The university experience helped us a lot, both in sports and in life"
Knowledge
PROFESSOR EMERITUS SLOBODAN UNKOVIĆ PHD, ON THE MODEL OF MODERN EDUCATION
"Singidunum" by World Standards
In accordance with contemporary trends in higher education, this University continuously improves the quality of studying and creates experts with modern knowledge. They apply methods and techniques like in the most developed university centers in the world. Adapted to business needs of the market, through the curriculum the students become qualified to solve specific business situations and to master special skills
Text and photographs: Rozana Sazdić
Energy
MINING BASIN "KOLUBARA", THE BIGGEST COAL PRODUCER IN THE COUNTRY
Backbone of Serbian Power Industry
Miners from Lazarevac dispatch annually to thermal power plants about 30 million tons of lignite, from which, in the subsequent process, more than one half of electric power in Serbia is produced. Since 1896, when the exploitation began, 973.6 million tons have been produced in the basin of Kolubara, and reserves are estimated at about two billion tons
Traveling
With Lasta To The World
Travel agency "Lasta" as a part of transport company has been operating for 46 years, and its offer is based on organization and realization of travel arrangements, summer and winter holidays, student and expert trips and fairs, both in the country and abroad, with possibility of adjusting specifically to the needs and wishes of clients